Indian luge athlete Shiva Keshavan features in the latest edition of Sports Illustrated magazine as one of six athletes likely to charm spectators at this week's Winter Olympic Games in Turin, Italy.
The 24-year-old athlete finds a place in the list of 'long shot' athletes who "will win fans' hearts, if not any medals" at the Games which start this Friday, the magazine said in its February 6 issue.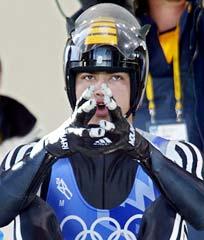 The sole Indian entrant at the 1998 and 2002 Winter Olympics, Keshavan had caught the attention of American media four years ago at the Salt Lake City Olympics, even though his exploits barely hogged headlines back home.
"The kid's one in a billion," one US daily proclaimed as talk show host Jay Leno punned on how India, a nation of one billion people, was represented by just one athlete.
An American sports writer noted that Keshavan's sled looked "like a 1957 Chevy with rusty doors and borrowed parts from 10 cars!"
This time around, Keshavan will be leading a four-member Indian team but remains the country's best bet for an elusive Winter Olympic medal.
"I am in good form and will be aiming at winning the event. Nevertheless, I will be very satisfied with a top 20 position," Keshavan said from Turin.
A Winter Olympic sport since 1964, luge involves a high-speed sled ride through a semi-circular ice track.
The men's event starts at the Cesana Pariol track on February 11, a day after the opening ceremony where Keshavan will be India's flag bearer for the third Games in a row.
"Training is going on well. I got the chance to test the track here - reputedly the world's fastest luge track. Unofficially, the fastest speed recorded here is 158 km/h," Keshavan said.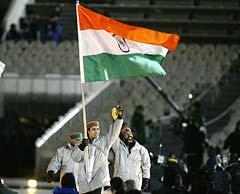 Though he placed 28th in Nagano (1998) as a 16-year-old and 33rd at Salt Lake City (2002), Keshavan's performances were creditable considering he finished just about a second slower than the winner in each of the four luge runs.
His preparations for the Turin Games got a boost in December 2005 with Keshavan winning his first international medals at the Asia Cup in Nagano. He won the bronze medal in the singles and then teamed up with Korea's Kim Min Kyu to claim a silver in the doubles event.
But Keshavan knows that to win a coveted Olympic medal for India, he would have to beat several European athletes who dominate the world rankings. He has been following a rigorous training schedule set by coach Yann Fricheteau with three sessions per day to achieve top form in time for his event.
Italian athlete Armin Zoeggeler, who bagged the gold medal at the 2002 Salt Lake City Olympics and Germany's George Hackl, who has won medals at the last five Olympic Games, are again the favourites for this year's event.
Three Indian athletes will be making their debut at the Winter Olympics this year, including Delhi girl Neha Ahuja (Women's Alpine Skiing) - the country's first woman to qualify for the Winter Games.
While Gupta Bahadur Gurung will be taking a shot at Cross-Country Skiing, Hira Lal will be trying his luck in the Men's Alpine Skiing competition.
Photographs: AFP/Getty Images