After a hiatus of five years, Narain Karthikeyan is all set to make his long-awaited comeback in the Formula One circuit after he earned a race driver's seat with the Hispania Racing Team (HRT) for the 2011 F1 season.
India's first F1 driver, Karthikeyan's last stint as a race driver was way back in 2005 with Jordan and since then he test-drove for Williams F1 in 2006 and 2007.
As expected, the 33-year-old Indian driver was ecstatic about fulfilling his dream of being the Indian driver on the grid of the inaugural Indian Grand Prix.
"I have worked really hard to come back to F1 and it will be a dream come true to race in the first ever Indian Grand Prix in front of my fellow Indians. I hope that they will spur me on with their blessings and good wishes," said Karthikeyan.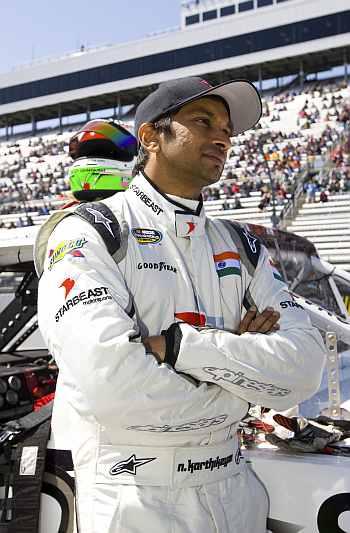 His last stint in Formula 1 was as a race driver for Jordan Grand Prix in 2005. He then joined Williams F1 in 2006 & 2007 as a test driver.
From 2007 until 2009, he was the lead driver for A1 Team India in their quest for National honours in A1GP, The World Cup of Motorsport, where he won races for his country.
In 2009, he raced for the Kolles Audi Team in the Le Mans Series and the Le Mans 24-Hour race, where he again became the first ever Indian to participate in that legendary event.
The year 2010 turned out to be one of his busiest racing years for him ever, as he raced in NASCAR's Camping World Truck Series in the USA, as well as in the Superleague Formula in Europe, where he won a race at his favourite circuit, Brands Hatch in the UK.
Now, Karthikeyan is looking forward to driving for the Hispania Racing Team (HRT), which is all charged up to dramatically improve upon its 2010 performance.
HRT have expanded their own resources and have established some strong technical partnerships for the 2011 season.
Meanwhile, Karthikeyan said that he was extremely grateful to the Tata Group, who have played a pivotal role in ensuring his return to a full-time Formula 1 race drive.
"It's been a while in the making, but I am delighted to be racing again in Formula 1 in 2011. I have always maintained that I have not given up on my desire to return to the top level of motor sport. I am confident that I have the pace, the fitness and the will to succeed in Formula 1. I am extremely grateful to the Tata Group, without whose unwavering support, this comeback would not have been possible.
"I'm looking forward to racing for HRT, and to working again with Dr Colin Kolles (MD/Team Principal, Hispania Racing). We have a long standing and excellent working relationship together," said Karthikeyan.
The fan following in Formula 1 in India is poised to hit an all-time high with the prospect of having an Indian driver on the grid of the Indian Grand Prix in 2011.