Commonwealth Organising Committee chairman Suresh Kalmadi has  apologised to the Ugandan team and the High Commissioner in India for the freak car accident at the Athletes' Village which led to injury to three top officials, including the chef-de-mission, OC spokesperson Lalit Bhanot said on Friday.
"Mr Kalmadi has sent a letter to the High Commissioner and chef de mission apologising for whatever has happened," Bhanot told a press conference.
Uganda chef-de-mission William Tumwine, Administrative Officer Iren and Press Attache Juliet were injured wee hours on Wednesday when their official car applied sudden brakes and hit the hi-tech underground sharp metal stoppers that had sprung up as they were entering the Village.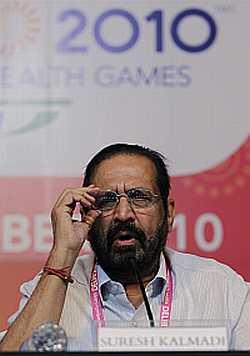 An angry Ugandan sports minister Charles Bakkabulindi had earlier demanded an apology from Indian authorities for the accident.
"Despite this mistake they are yet to apologise. The government has not come out officially to apologise to our team. They are the ones who have caused the accident, they should say sorry and we are taking necessary steps. We are seeking for an apology, we are so disappointed," Bakkabulindi had said.
The Ugandan Sports Minister, who could not attend a dinner hosted by Indian Sports Minister M S Gill, has now accepted a luncheon invitation from his Indian counterpart along with his family.
Gill had already expressed regrets on behalf of the CWG Organising Committee to the Ugandan High Commissioner Nimisha J Madhvani and the Ugandan Sports Minister.
Commonwealth Games Federation President Michael Fennell said the underground sharp metal stoppers will be de-activated and he is waiting for a "full and compreshensive report" on the accident.
"The device will be de-activated so that such accidents do not occur in future," he said at the daily press conference he addressed along with Bhanot and CGF Chief Executive Mike Hooper.
"We are receiving a full and comprehensive report from the Indian authorities. We are seeking a report from the Delhi Police wand other security agencies. We have also our own security consultant and he will give us his report also," Fennell said.
All the three Ugandan officials had been discharged after being given treatment at the G B pant Hospital.
Hospital sources said Iren had come with a cut in the eye-lid and a swelling on forehead. She received stitches.
Juliet was hit in the back of the skull and had a big swelling behind her head. The Chef De Mission, however, had minor injuries, sources said.