India's junior fencing team will not be able to participate in the Asian Junior and Cadet Championship scheduled to be held in Thailand under the national flag owing to IOC's ban on India and this move could also hit the progress of the game as government may stop funding.
Following International Olympic Committee's ban on India in December last year, the International Fencing Federation (FIE) had suspended the national body but the Indian fencers have been allowed to take part in the March 2-11 Asian event in Thailand under the banner of Fencing Confederation of Asia.
If the fencers take part in the Asian Junior and Cadet Championships under the FCA banner, it will be the first time in India's sports history that their sportsperson will represent an international entity.
The Indian fencers are also still uncertain on whether to take part under the FCA banner as they have to find private sponsors as the government has not yet responded to their request for financial help with just a week left for the event.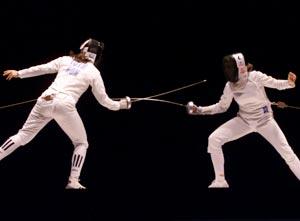 Even in normal times, the fencers have been given help on case by case basis as the Fencing Association of India does not get government grant with the sport listed in the 'other sport' category of the Spots Ministry.
"The international fencing federation has assured the suspension will be lifted but that can happen only by a decision of its Executive Committee and its meeting is coming up only in April and so there will be no lifting of the suspension till that time.
"But the FCA has allowed Indian fencers to participate under its banner in Thailand," Fencing Association of India (FAI) Secretary General Sanjay Pradhan said.
"But the problem is FAI does not have fund because we no longer get government grant as fencing has been placed in other category by sports ministry and we do not have private sponsors.
"So the fencers will have to spend from their own pockets. We have asked the fencers who won medals in last National Junior Championships last year to tell us if they have their own resources and after that we will send their entry for the event," he said.
Pradhan said that the Asian body has given extension of the deadline for sending entries till the end of this month.
He said any fencer from among the top four finishers in the last Nationals in Gwalior in the men's and women's sections in the three categories of sabre, foil and epee can take part in the event in Thailand if they have the individual resources.
Among these, eight fencers -- all girls -- are from the Sports Authority of India Centre at Kannur in Kerala.
Their coach Sagar Suresh Lagu said that they had written to SAI and Kerala government for help but yet to get any response. He said each fencer will need between Rs 80,000-85,000 to take part in the Asian event.
"SAI had provided us the fund in 2010 and 2011 in an Asian event and Commonwealth event where my wards had done exceedingly well by winning medals. This time also we had written a letter to SAI and state government also for financial help but we have not got any response as yet," he said.
"We have to leave for the event by February 28 and it's just a week left from now. We are trying to get some money from friends and private individuals and don't know how we would go," he said.
Out of these eight girls, six will take part in the junior (under 20) category while two will participate in Cadet (under 17). The six in the junior category are Bhavani Devi (sabre), Stefitha Chalil (epee), Neha Khare (sabre), Radhika Awati (foil), Aswathy Raj (epee) and S G Aarcha (foil).
Sagar said the number of participants taking part in the event will be decided on the basis of the amount of money they can gather.
"We have to see how much money we can collect and accordingly decide how many from these eight fencers from SAI Centre Kannur will take part. And if course we will have to take into account the medal prospect," he said.
Photograph: Scott Barbour/ALLSPORT