Jerzy Janowicz continued to be a thorn in the side of higher ranked opponents as he reached the Paris Masters final with a 6-4, 7-5 win over local favourite Gilles Simon on Saturday.
Polish qualifier Janowicz, who beat US Open champion Andy Murray in the third round, used his big serve and his magic touch to see off Simon and set up a Sunday meeting with Spanish fourth seed David Ferrer.
Ferrer, who is looking to clinch his maiden Masters title, dismissed France's Michael Llodra 7-5, 6-3 in the other semi-final after saving 10 break points in the opening set.
Wildcard Llodra, who had won his 43 service games in the tournament heading into Saturday's clash, took a medical timeout to have his back massaged while trailing 3-0 in the second set.
Ferrer wrapped it up with a crosscourt forehand winner after one hour 50 minutes.
"I tried to be very focused every time (he had a break points)," Ferrer told a news conference. "I was more aggressive in the important moments."
Llodra, who played serve and volley throughout, was left frustrated by the defeat.
"It's extremely frustrating, because I believe if I was serving first it would have been a different match. I don't remember how many break points I had, maybe ten, in all games I think except one," said the Frenchman.
"If I had won that first set it would have been different. I would have been ahead; he would have been more tense. But great players, they are able to hang in there."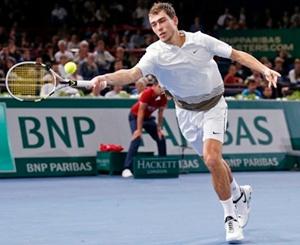 Earlier, world number 69 Janowicz claimed his fifth top 20 scalp in Bercy.
The achievement has yet to sink in.
"For me I cannot believe this actually. How is this possible?" Janowicz told a news conference.
"I came here just to play qualifications and suddenly after a few days I'm in the final. I don't know how I did this but tomorrow the final is waiting for me. Wow."
Janowicz, who did not face a single break point, broke the 20th ranked Simon in the fifth game with a booming service return winner and comfortably held serve to claim the opening set with a forehand winner.
The Pole, who missed only three first serves in the first set, was less dominant in the second set.
Simon, however, fell 0-40 down in the 11th game and Janowicz sealed the decisive break with a dropshot winner.
He ended the contest with yet another dropshot winner on his second match point and immediately started sobbing as he collapsed to his knees before hitting the court with his hand in apparent disbelief.
"I still need some time to relax a little bit, to think about this match, to accept this situation," he said.
"Right now I'm in the final. After this match point, I just fell down and I was crying almost like a baby. Big baby," added Janowicz, who stands at 2.03 metres.
Janowicz could not go to this year's Australian Open because he did not have enough money.
In January, he could well be seeded for the season's opening grand slam since he is projected to break into the ATP's top 30 when the new rankings are released on Monday.
Janowicz's rapid rise did not come as a surprise to Simon.
"His forehand is so powerful that it sometimes feels like a serve," the Frenchman told a news conference.
"It was not his serve that made me lose. His serve didn't bother me that much."
Janowicz can now expect to attract some sponsors, especially since TV crews have been besieging his house in Poland.
"The street next to my house actually is completely blocked. There is like about nine or 10 cars, TVs, and it's completely blocked. There is no way to get to my house right now," Janowicz explained.
"So I think after this final I have a chance to find some really good sponsors and I will not have to worry about the money.
"For sure I get some money just from the tournament here, but when you are making the final in this kind of tournament, you should have some sponsors anyway."
Image: Jerzy Janowicz
Photograph: Benoit Tessier/Reuters