Brittney Reese unleashed the beast in one giant leap to become the first woman to win three long jump titles at the world championships on Sunday.
Reese, gold medallist in 2009 and 2011, had scraped into the final on countback after a below-par showing in Saturday's qualifying but the American, known as the 'long jump beast', had no intention of losing her crown.
After opening with a foul, the American rose to the occasion with a leap of 7.01 metres, which was enough to secure victory and ensure she went one better than long jump greats Heike Drechsler, Jackie Joyner-Kersee and Fiona May who all won two world titles.
"Right now it feels good. I'm in the history books because I've done something nobody's ever done," the 26-year-old told reporters.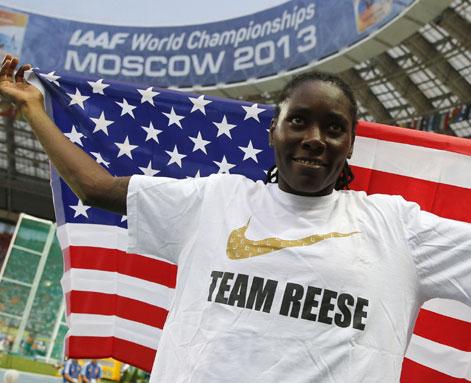 "I'm just excited I got the last spot yesterday to show the world that was not the Brittney Reese they know and today was.
"I feel really blessed that I finally surpassed people like that and I've got my own place in the history books now."
Reese pulled off the only seven-metre jump of the competition and left Nigeria's Blessing Okagbare, who briefly led in the first round with 6.89 and later improved to 6.99 on her penultimate effort, with silver.
Serbia's Ivana Spanovic was third with a national record 6.82 metres on countback from Belarussian Volha Sudarava.
Before celebrating, Olympic champion Reese put on a t-shirt bearing the words 'unleash the beast', hugged Okagbare and then holding the Stars and Stripes flag, posed for photographers.
"This is my 'Team Reese' shirt," she said pointing at the words printed on her white top.
"On the back it says 'unleash the beast'. That's my nickname 'the long jump beast' I put that on my Facebook, 'unleash the beast' - people love it and I love it."
Before the world championships, Reese had said her plan was to nail the gold with her first jump having been called "the sixth-round knockout queen".
"It didn't go as planned," she said. "I thought that seven metres was going to hold and give me a medal... and I'm glad I didn't wait till the last minute and give everybody a scare."
Image: Brittney Reese of the U.S.celebrates after winning the women's long jump final at the IAAF World Athletics Championships at the Luzhniki stadium in Moscow
Photos: REUTERS/Dominic Ebenbichler