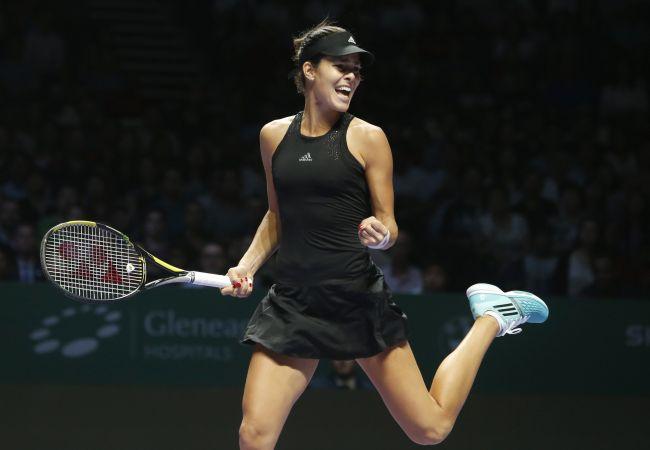 Ana Ivanovic of Serbia celebrates a point against Simona Halep of Romania during their WTA Finals singles tennis match. Photograph: Edgar Su/Reuters
Serbia's Ana Ivanovic just missed out on a place in the semi-finals of the season-ending WTA Finals despite beating Simona Halep in the final group match on Friday.
Under the rules of the round-robin competition, Ivanovic needed to win in straight sets to leapfrog Serena Williams in the group standings and snatch the last available semi-final spot.
But after coming from 5-2 behind to win the first set in dramatic fashion, she was unable to finish off Halep in the second, and had to settle for a 7-6(7), 3-6, 6-3 consolation win.
"It was a very tough match, she's a great player and the first set was really hard. I had plenty of opportunities even at 2-5 down that I didn't really take," Ivanovic said in a courtside interview.
"But I really tried to fight hard from that point on and it was amazing to turn it around. The second set was also a battle, so to prevail in the end was amazing."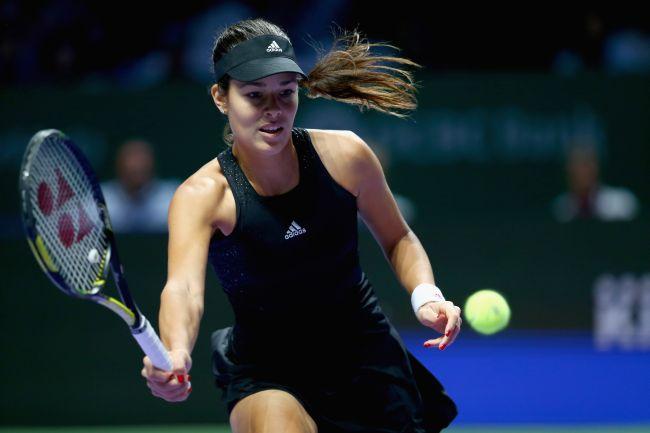 Ana Ivanovic of Serbia plays a forehand volley against Simona Halep of Romania in their round robin match during the BNP Paribas WTA Finals. Photograph: Clive Brunskill/Getty Images
The result was a bittersweet outcome for Ivanovic. Although she won two of her three group matches and handed Halep her only defeat, she missed out on the semis because she lost one more set in her three matches than both the Romanian and Williams.
"You know it's always a process and it didn't happen overnight, I worked really hard for it," she said.
"I started to enjoy life more on and off the court and over the last year, I have worked harder and it's starting to show now and I am enjoying competing."
Halep, runner-up at this year's French Open, faces Agnieska Radwanska in Saturday's semi-finals while Williams, who is chasing a hat-trick of WTA Finals titles, meets Caroline Wozniacki in a rematch of last month's U.S. Open final.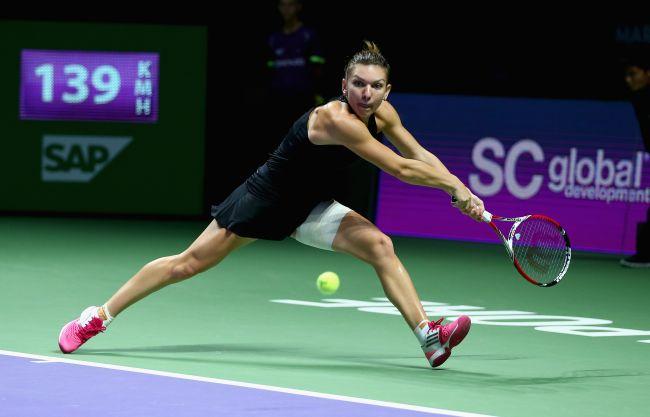 Simona Halep of Romania stretches to play a backhand against Ana Ivanovic of Serbia in their round robin match during the BNP Paribas WTA Finals. Photograph: Clive Brunskill/Getty Images
Halep went into the match against Ivanovic with her semi-final spot already sewn up after she won her two previous group matches, including a 6-0, 6-2 demolition job on Williams, and said she felt like she had nothing to lose.
"I'm in the semi-finals for first time at WTA Finals, so I have to feel happy," she said.
"I did everything and I played really well here. I beat the number one in the world, so I have no reasons to be sad.
"I will try to win tomorrow, and, yeah, of course this week I will never forget."