'I have never taken any banned substance'
'Someone has sabotaged my food supplements and water intake'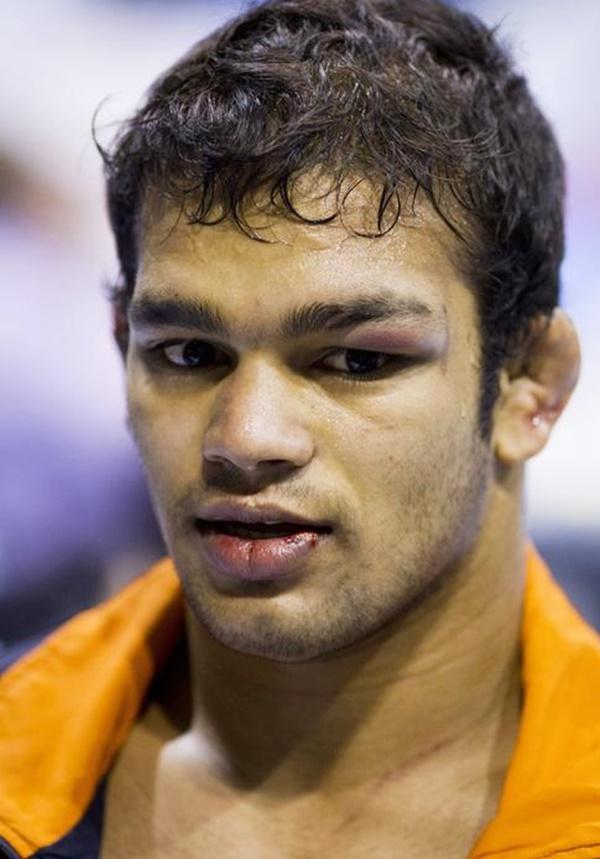 IMAGE: India's Narsingh Yadav of India looks on. Photograph: Roni Rekomaa/Lehtikuva/Reuters.
His Olympic dream in jeopardy after a failed dope test, wrestler Narsingh Yadav claimed innocence, saying that the scandal is a conspiracy against him.
"I have been a professional freestyle wrestler for over 15 years and I have undergone almost 25-30 dope tests. I have come out clean every single time and never have any of my samples returned positive results," Narsingh said.
"I have undergone three tests in the last month and a half. I appeared for a dope test on the 2nd of June before leaving for a training camp in Bulgaria. I was again tested on my return on the 25th of June and once again on the 5th of July," he said.
"I believe that there is foul play involved in this entire episode. Someone has sabotaged my food supplements and water intake.
"I take pride in the fact that I have competed in every competition, international and domestic, in an honest, fair and transparent manner and I will continue to do so. I am a responsible athlete with an understanding of the country's expectations and hopes on me. I would never dream of betraying that hope." he said.
Narsingh, who was picked ahead of the double Olympic medallist Sushil Kumar to represent India at the Rio Games in 74kg Freestyle category, has been handed provisional suspension and virtually ruled out of next month's Olympics.
The 26-year-old wrestler's Olympics accreditation has also been withheld.
The Wrestling Federation of India (WFI) has also cried foul, claiming that Narsingh has a clean history and it seems to be a sabotage.
"It is a sabotage, foul play. Narsingh has a very clean history. It's clearly a conspiracy against him," WFI sources said.
Narsingh's chances of going to Rio look bleak but even Sushil Kumar is set to miss the flight.
"Decision on the representation in 74kg is to be taken later but in all likelihood there would be no Indian representation in 74kg category in Rio Games because the date of entry of the athletes is over," the source added.
Narsingh, who won the 74kg Olympic quota berth with a World Championships bronze last year, was selected by the WFI to represent India at the Rio Games in controversial circumstances after Sushil's demands for a trial were rejected by the Federation as well as the Delhi High Court after a lengthy legal battle.
National Anti-Doping Director General Navin Agarwal confirmed that Narsingh's 'B' sample also tested positive for a banned substance and he appeared before a NADA disciplinary panel on Saturday. Sources said that he had returned positive for methandienone -- a banned anabolic steroid.