Italian rider Andrea Antonelli died after a high-speed crash on the opening lap of a World Supersport Championship race at the Moscow Raceway on Sunday, Italian and Russian media reported.
Antonelli suffered a head wound when he came off his Kawasaki at 250 kph in torrential rain on the opening lap and was hit by a following rider, Italy's Gazzetta dello Sport said.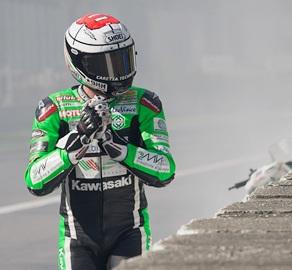 The 25-year-old Antonelli died after being taken to the circuit's medical centre, it added.
Officials called off the race, and the day's headline World Superbike Championship event.
Russia's federal investigative committee was looking into the accident, the Russian Itar-Tass news agency reported.
Image: Andrea Antonelli
Photograph: Mirco Lazzari gp/Getty Images