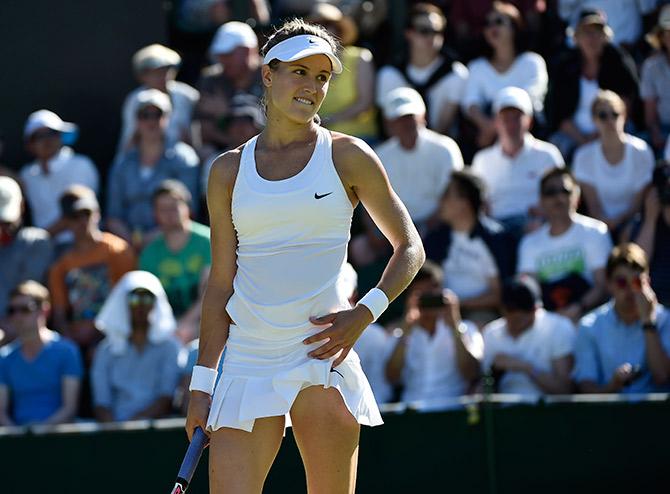 Eugenie Bouchard of Canada reacts during her match against Ying-Ying Duan of China at the Wimbledon Tennis Championships in London. Photograph: Toby Melville/Reuters
Eugenie Bouchard was brutally honest after suffering a first-round defeat by China's Duan Yingying at Wimbledon to end her hopes of repeating last year's run to the final.
The Canadian 12th seed, crushed by Petra Kvitova in last year's showpiece, was beaten 7-6(3) 6-4 on Court Three.
Since reaching the Australian Open quarter-finals in January she has suffered eight first-round defeats and was further hampered by a stomach injury against Duan.
"It has kind of been a stressful time, these big tournaments that everyone was talking about to me," Bouchard told reporters.
"I definitely felt tight in the first set. But I also felt very unprepared for this match," she added.
"That's unfortunate. But I wanted to play, no matter what.
"It's just been a lot of learning. I'm always trying to keep the belief and stay true to myself and do what I need to do to become as good as I know I can be.
"I've just learned about this world I'm in, being an athlete, the struggles."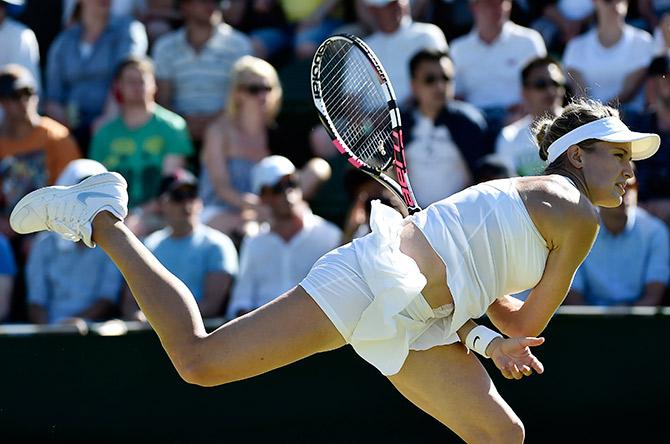 Eugenie Bouchard of Canada hits the ball during her match against Ying-Ying Duan of China at the Wimbledon. Photograph: Toby Melville/Reuters
Bouchard, 21, said she could not miss the chance to play at Wimbledon.
"I have a grade two tear in my ab. Probably wouldn't have been smart to play here, but I couldn't pass on Wimbledon. So I did kind of minimal preparation to save myself for the match.
"I was trying not to think about it. But I just haven't practised that much. So I felt my timing was very off."
"I'm disappointed because I lost. And it was probably not the smartest decision."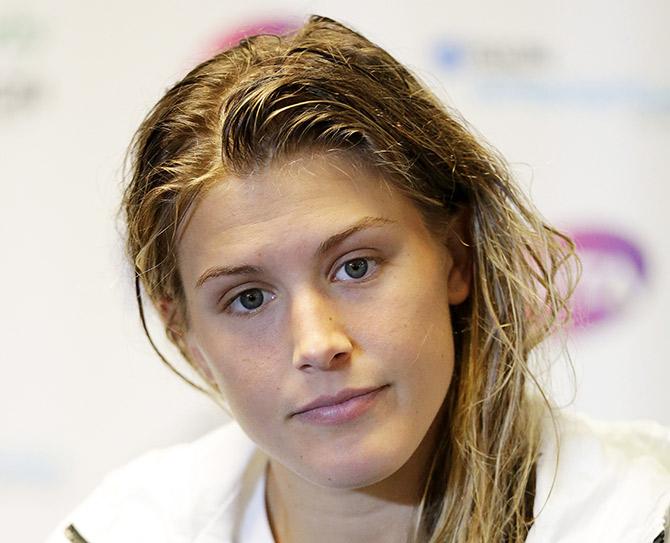 Canada's Eugenie Bouchard during a press conference. Photograph: Henry Browne/Reuters
Bouchard let slip a 2-0 lead in the opening set and after clawing back a 3-0 deficit in the tiebreak she capitulated with a succession of unforced errors.
World number 117 Duan stayed cool when serving for the match at 5-4, the Wimbledon debutant forcing Bouchard into a forehand error to seal victory.
Bouchard said she was determined not to lose her cool.
"I definitely wasn't going to break my racquet on the court, that's for sure," she said. "You can't do that at Wimbledon.
"Maybe something will explode later tonight."