Yashaswini Singh Deswal has won the individual silver medal in the junior women's air pistol event after she shot a total of 197.7 points on the second day of the ISSF Junior World Cup in Suhl, Germany.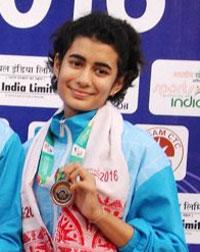 Besides Yeshaswini, India also walked away with the team silver medal in the 10M Air Pistol Women event as the trio of Mailaika Goel (378), Yashaswini (374) and Gauri Sheoran (370) shot a total of 1122 points.
The gold medal went to Germany after they shot 1129 points while the Russian Federation settled for the bronze with 1117 points.
The Indian trio of Gaurav Rana (574), Hemendra Kushwah (569) and Arjun Das (565) won the team bronze at the 10M Air Pistol Men event shooting a total of 1708 points.
The Italian team walked away with the gold medal shooting 1711 points while the Russian Federation team won the silver medal, shooting a total of 1710 points.
Image: Yashaswini Singh Deswal