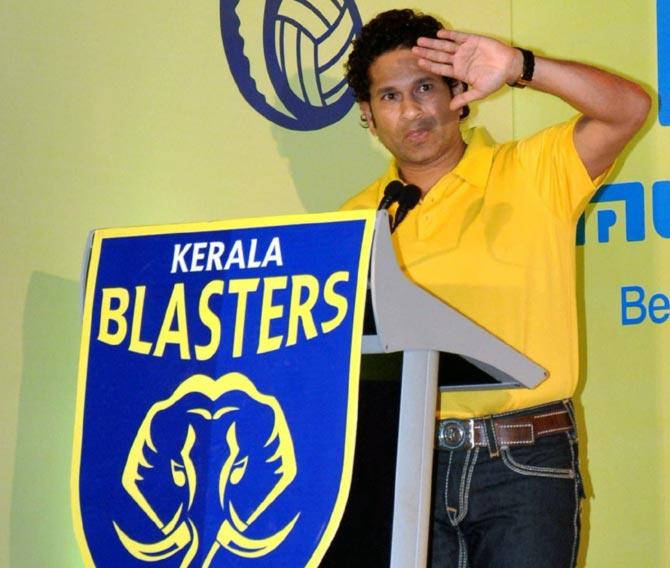 Sachin Tendulkar, co-owner of the Kerala Blasters. Photograph: PTI
Legendary Sachin Tendulkar feels that Indian Super League has begun on the right note and the 'fantastic start' on Sunday would be a huge boost towards changing the face of the game in the country.
Koke takes NorthEast United past Kerala Blasters
Kolkata drub Mumbai 3-0 in a spectacular ISL opening night
Indian Super League kicks off with glittering ceremony
Tendulkar is one of the co-owners of the ISL franchise Kerala Blasters FC which is being led by former England goalkeeper David James.
"It (ISL) is a new beginning. Everyone is looking for it. It had a fantastic start yesterday. The teams showed tremendous spirit and the crowd was very supportive," Tendulkar, who is here to support his team Kerala Blasters said.
'I feel nice to be a part of ISL'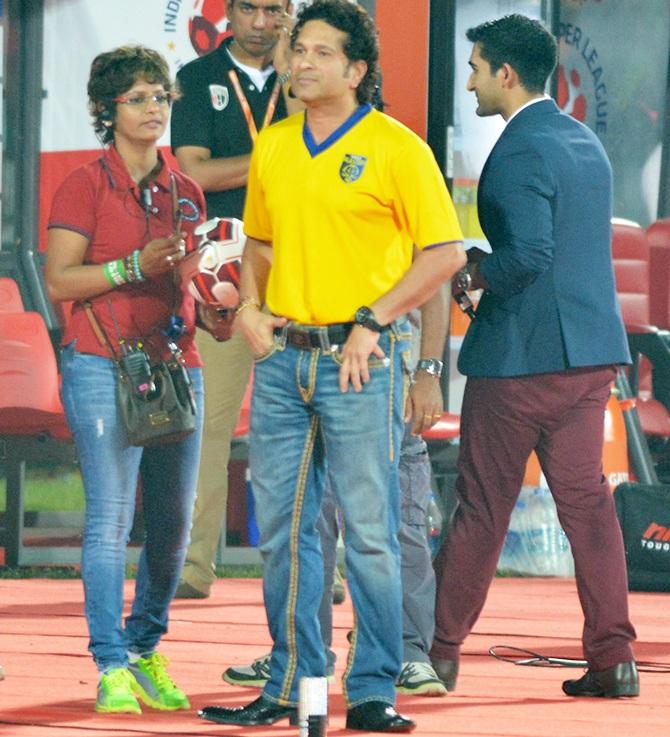 Sachin Tendulkar during the ISL match in Guwahati. Photograph: Reba kumar Borah
Tendulkar said that ISL will change the face of Indian football.
"It (ISL) is a big moment for Indian football. This initiative is going to change Indian football. I feel nice to be a part of it. I think the entire nation needs to be behind this."
'ISL could open the doors for Indian players'
ISL players during the unvieling of the trophy in Mumbai.
FC Pune City's marquee player and France's World Cup winner David Trezeguet said the experience of playing alongside overseas stars in the Indian Super League will help the local players in making the cut in the overseas leagues.
Talking about his team-mates on the eve of his side's match against Delhi Dynamos, the 36-year-old Frenchman said, "They are good. Hopefully, their experience of playing with top players will open a new way of getting entry into other top leagues abroad."
"I am happy to be part of this new concept in Indian football. Players like Alessandro del Piero and Nicolas Anelka are playing here, and it raise the profile of the game. I am glad to be witnessing the emergence of a new football tournament," he added.
It will be a reunion of sorts for Italian legend Alessandro Del Piero and Trezeguet as the two had spent some great years in Juventus.
Both were part of the Juventus team when the Serie A giants were relegated to second division following the 2006 match-fixing scandal that rocked Italian football. They were also the ones singing the redemption song when the club, also called the Old Lady of Turin, returned to top-flight football and dominated the league.
"This will be the first time that I will be playing against Alessandro and it's definitely a new experience for me."
I will fight till end for my team, says Del Piero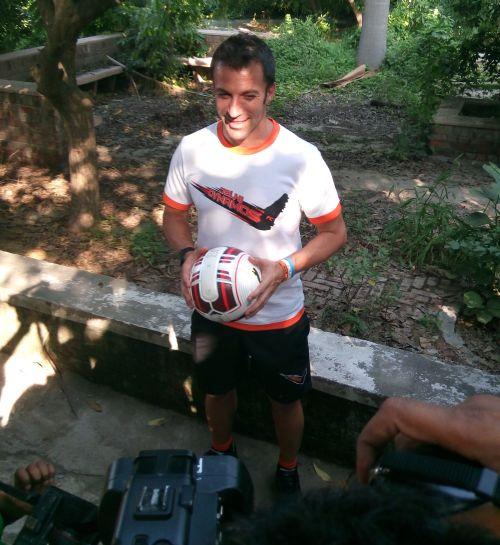 Alessandro Del Piero during a media interaction. Photograph: Manu Shankar/Rediff.com
He may have played in just one practice game in the run-up to the Indian Super League but Delhi Dynamos' marquee player Alessandro Del Piero is geared up for their first match against FC Pune City, to be held in New Delhi on Tuesday, and says he will 'fight till the end' for his team.
"I have been training for the last four weeks and though I have played just one practice match it will be okay," the 39-year-old Del Piero told reporters on the eve of the match.
"I can assure you I will fight till the end for my team," he added.
"It will be fun to play against him (Trezeguet). We have played for so long together in Juventus and we were one of the best strike partners. Now, we will be playing face to face," said Del Piero when asked about playing against the Frenchman who, like the Italian, is also a World Cup winner.
Dynamos coach Harm van Veldhoven said there was no fitness issue in the team.