Lewis Hamilton has competed with Alonso, Raikkonen, Button, Rosberg, Schumacher and Vettel, champions all of them, and he has come out on top.
Chetan Narula salutes the champion!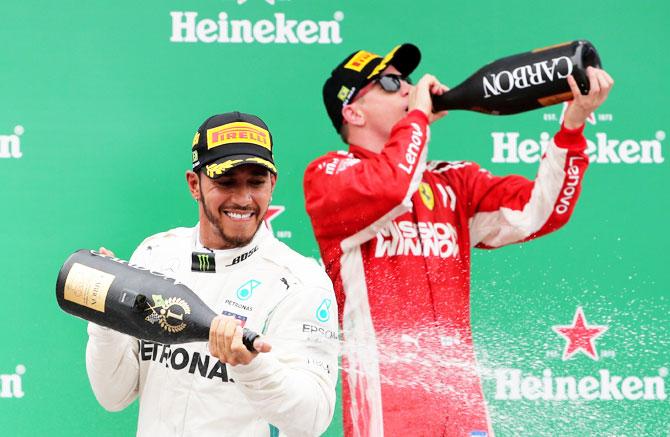 After Lewis Hamilton sealed his fifth Formula One drivers' title at the Mexican Grand Prix, praise poured in from different quarters.
It was the standard set of tributes from one and all, yet a particular statement stood out.
'I would rate Lewis above Michael Schumacher, by miles,' said 1997 F1 champion Jacques Villeneuve.
'There were too many question marks on how some races or championships were won (by Schumacher). Being a champion is more than just winning. There's very little negativity about Hamilton (in comparison),' Villeneuve added.
One knows where Villeneuve is coming from. Villeneuve won for Williams-Renault in 1997 after Schumacher (Ferrari) was disqualified after ramming into the former's car in the final race at Jerez (Spain).
This isn't the only blemish on the German's record -- clashes with Damon Hill (1994) and Mika Hakkinen (2000) stand out as well.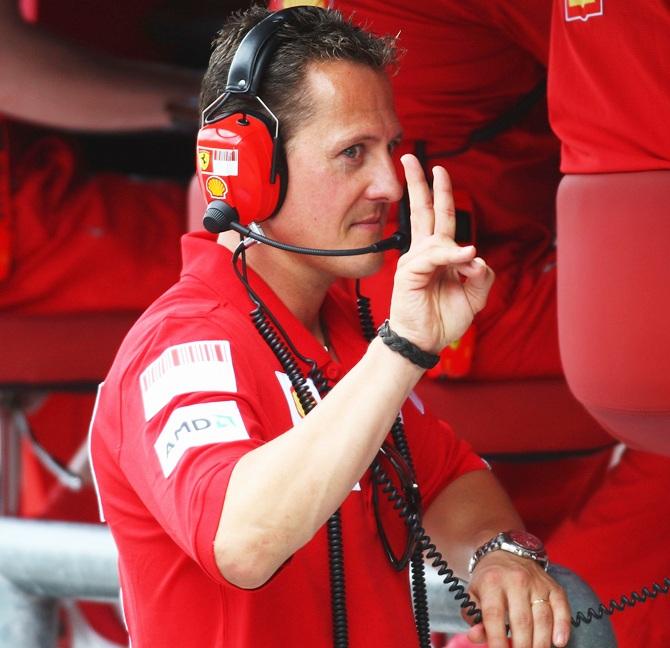 The seven-time champion was known for bossing around on the track and, on many occasions, escaped grave censure from the Federation Internationale de l'Automobile thanks to Ferrari's clout.
While there are many who cast aspersions on his legacy, there is no denying his greatness at the wheel of an F1 car.
In a way, it is akin to Ayrton Senna's similar duels with Alain Prost, wherein they drove into each other on more than one occasion.
Perhaps that's the price you pay for driving on the limit at all times, and it is no wonder that the baton was passed from Senna to Schumacher as the sport progressed from the 1980s to the 1990s and then the 2000s.
The question then arose: Who was next?
When the German first retired from F1 in 2006, Fernando Alonso -- already two-time champion by then -- was seen as the heir apparent.
However, things haven't gone according to plan for the Spaniard who has failed to add to the titles he won in 2005 and 2006.
Instead, Hamilton -- who debuted only in 2007 -- has garnered five crowns, with Sebastian Vettel taking another four.
Like Senna and Schumacher, Alonso, who exits the sport at the end of this season, had a devilish streak -- a win-at-all-costs mentality, which put question marks on his twin titles too.
Then, there is the matter of burning bridges -- with McLaren, then Renault, thereafter Ferrari and McLaren again.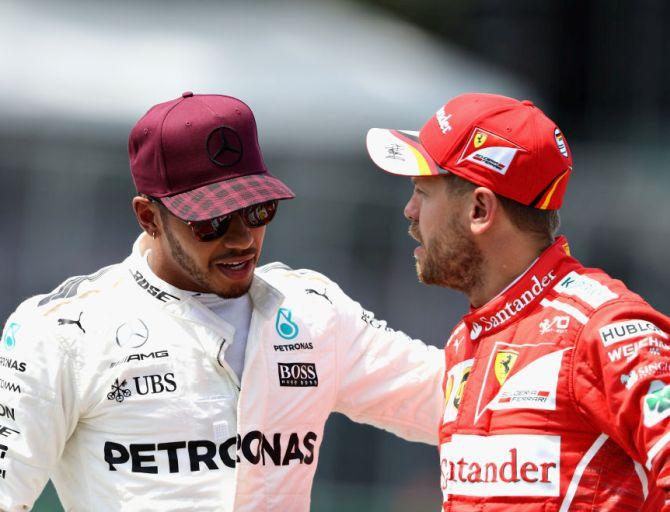 Meanwhile, both Hamilton and Vettel have gone from strength to strength, including maintaining a healthy relationship with their past employers, McLaren and Red Bull, respectively.
This 2018 season was thus billed as a straight Hamilton-versus-Vettel battle.
In the end, though, it turned out to be anything but that as the British driver drove to 10 wins in 15 races.
Hamilton's record speaks for itself -- in 12 years, he has only been beaten twice by a teammate (Jenson Button at McLaren in 2011 and Nico Rosberg at Mercedes in 2016).
Hamilton lost to Button only by 43-odd points (a difference of two podium finishes) and to Rosberg by a mere five points in an intensely fought championship.
'The battle with him was ultra-intense. I needed a mental trainer at that time (to handle everything during the race and in the media). I didn't admit it at that time, but it was my defence,' said Rosberg, in an interview about that 2016 title challenge.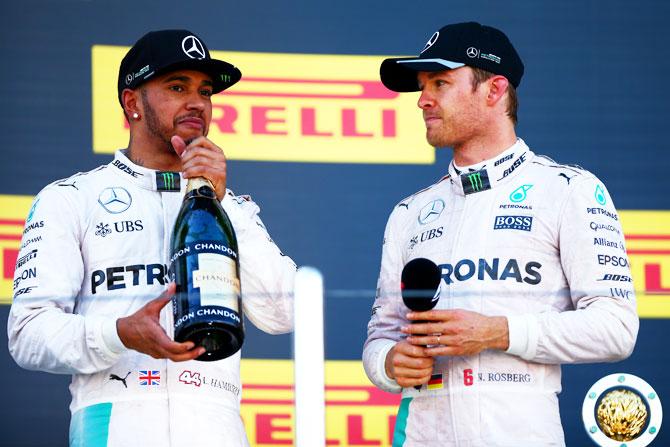 This singularly underlines what it is to go up against Hamilton.
It defines his persona as a true, nay, pure racer, arguably the best of this modern F1 era.
He has competed with Alonso, Kimi Raikkonen, Button, Rosberg, Schumacher and Vettel, champions all of them, and he has come out on top.
On the way, he has accumulated 72 race wins -- second only to Schumacher's 91 and 81 poles (the highest for any driver) in 228 F1 races.
Coming from Stevenage, England, all of this was a dream for the eight year old who went up to McLaren boss Ron Dennis in 1993, telling him of his ambition to 'race his cars'.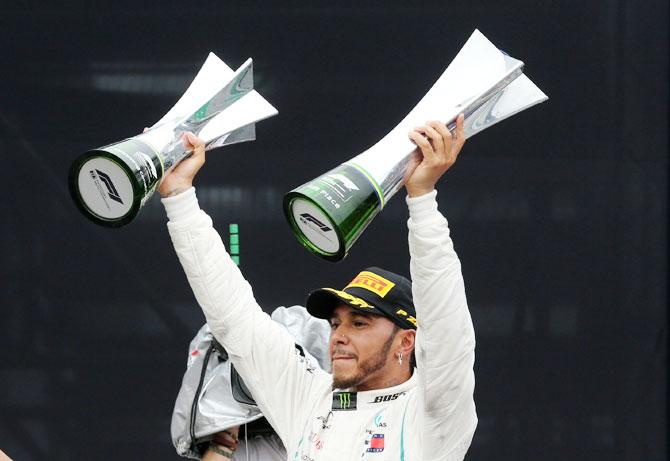 Never mind a flashy, Monaco-based lifestyle, a single-minded resolve has now seen that same kid become only the third F1 driver in history to win five championships (after Schumacher's seven and Juan Manuel Fangio's five).
And knowing his unquenchable thirst, Hamilton isn't done just yet.
Lewis Hamilton Formula One Career
Season
Team
Races
Wins
Poles
Podiums
Points
Position
2007
Vodafone McLaren Mercedes
17
4
6
12
109
2nd
2008
18
5
7
10
98
1st
2009
17
2
4
5
49
5th
2010
19
3
1
9
240
4th
2011
19
3
1
6
227
5th
2012
20
4
7
7
190
4th
2013
Mercedes AMG Petronas F1 Team
19
1
5
5
189
4th
2014
19
11
7
16
384
1st
2015
19
10
11
17
381
1st
2016
21
10
12
17
380
2nd
2017
Mercedes AMG Petronas Motorsport
20
9
11
13
363
1st
2018
20
10
11
16
383*
1st
* Season still in progress.