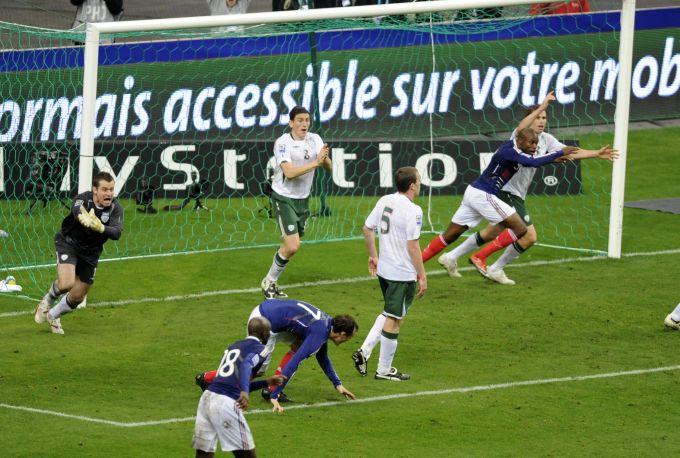 Ireland's goalkeeper Shay Given (L) reacts after controversial goal by France's William Gallas (2nd R) where team captain Thierry Henry touched the ball during their World Cup qualifying playoff match at the Stade de France stadium in Saint-Denis

. Photograph:

/Jacky Naegelen

/Reuters
FIFA President Sepp Blatter's public mockery of a confidential Irish request to be added as the 33rd team in the 2010 World Cup helped trigger a controversial €5 million payout, the Football Association of Ireland (FAI) said on Friday.
FIFA on Thursday said it had made the payment to avoid threatened Irish legal action following a controversial World Cup playoff defeat in 2009 when the decisive goal was scored after a handball by French striker Thierry Henry.
But a detailed description of the events leading up to the payout released by the FAI on Friday made repeated reference to Blatter's comments at a major soccer conference days after the game, which enraged Irish fans, as a factor in the payout.
"Sepp Blatter made a joke of the Association's request to be the 33rd team at the World Cup... in direct breach of agreed confidentiality and subsequently brought reputational damage to the FAI," the FAI said in a statement.
"Sepp Blatter personally apologised to the FAI delegation for the remarks," the statement said. "After negotiation, FIFA offered the FAI a €5 million interest free loan by way of compensation."
FIFA also offered the FAI a $400,000 grant that was used for FAI Regional Football Centres, the statement said. The €5 million payment was lodged to the FAI's account on Jan 20, 2010, it said.
In the comments, 10 days after the Irish defeat, Blatter smiled as he told a soccer business conference that Ireland had asked "very humbly, can't we be team No.33 at the World Cup".
"They have asked for that, really," he said, laughing.