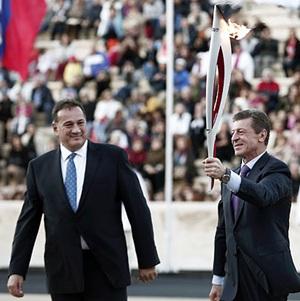 The International Olympic Committee has no doubt Russian authorities will be able to provide security at the Winter Olympics, a spokeswoman said on Monday after two bomb blasts killed tens of people in the Russian city of Volgograd.
-'Gay people welcome at Sochi Winter Olympics'
-Take a look at resounding success of Sochi Olympics
"At the Olympics, security is the responsibility of the local authorities, and we have no doubt that the Russian authorities will be up to the task," the spokeswoman said.
The attacks in Volgograd come less than six weeks before Russia is due to host the 2014 Winter Olympics in Sochi.
Image: Russia's Deputy Prime Minister Dmitry Kozak (centre) raises an Olympic torch for the Sochi 2014 Winter Games next to President of the Greek Olympic Committee Spyros Kapralos during a handover ceremony at the Panathenean stadium in Athens
Photograph: Yorgos Karahalis/Reuters