Kanwar Pal Singh Gill, president of the Indian Hockey Federation, has defended chief coach Rajinder Singh for telling captain Dhanraj Pillay and the players not to speak to the media.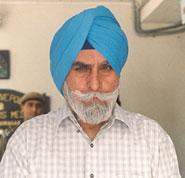 Gill himself got into a slanging match with reporters in New Delhi on Tuesday when he accused the print media of not giving good coverage to hockey and discouraging the players.
"I fully agree with chief coach Rajinder Singh for telling Dhanraj Pillay not to speak to the media," Gill later told Onkar Singh in an exclusive conversation. "When an order has been passed by the chief coach, it has to be followed by everyone, including the captain."
Otherwise, Gill was all praise for the players who did an admirable job in lifting the Asia Cup beating Pakistan 4-2 in the final.
Excerpts from the conversation:
You had a tiff with reporters and called them names. Why?
The media has blown a trivial incident out of proportion. The discordant note between the chief coach and the captain was highlighted more than the performance of the team. Is this fair?
Are you planning to take action against Dhanraj Pillay?
No, it is a small incident and we should leave it as it is. But we do intend to inculcate discipline in the hockey players so that this sort of incident is not repeated.
How do you assess the team's performance in the Asia Cup?
The boys played brilliant hockey, particularly in the second half [of the final], when they practically immobilised the Pakistani forward line. Ignace Tirkey was outstanding. The boys played a great game of hockey, the kind of game I would like them to play consistently so that we win more tournaments. We have won the Asia Cup, but the real test is yet to come.
What would please you?
When our team manages to win one of the three major tournaments -- the Olympics, the World Cup, or the Champions Trophy. It is not a question of my personal satisfaction. The boys play for India and they would do the country yeoman service by winning any one of these. It would be ideal if we could win all of them in the years to come.
Ajitpal Singh, India's former hockey captain, says the victory is a shot in the arm for the team and has come at the right time for the Olympic Games. Do you agree?
It is a correct statement, but Olympic hockey is a bigger goal. We would have to strive hard to win an Olympic gold.
Has lack of sponsorship been one of the reasons for not putting up a good show in hockey?
If that is the cause, then the Indian cricket team, which has all the sponsors and money, should have won practically all the tournaments they have played in the last few years. Has money improved their game? Have we won many tournaments in cricket?