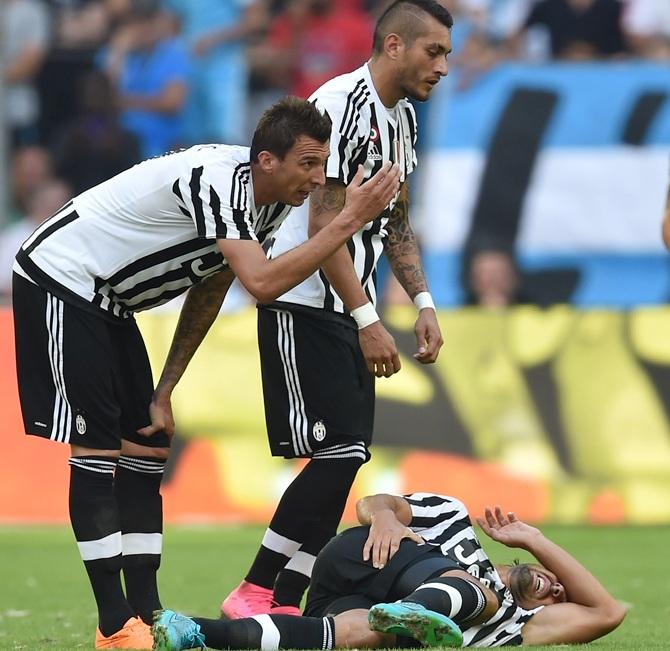 Juventus's Sami Khedira, right, lies injured during the preseason friendly match against Olympique de Marseille. Photograph: Valerio Pennicino/Getty Images
Juventus's new signing Sami Khedira will miss the first two months of the season with a thigh injury, the Serie A champions said on Monday.
Khedira was injured during a pre-season friendly against Olympique Marseille on Saturday, the German's first appearance for Juventus since his move from Real Madrid in June.
The injury is the latest blow to Khedira who barely featured for Real in the second half of last season.
Real cited a series of nagging injuries but Khedira said the club had decided he was no longer wanted.
Khedira helped Germany reach the World Cup final last year, only to miss the game against Argentina after he was injured in the pre-match warm-up.
West Ham's Valencia out for up to 12 weeks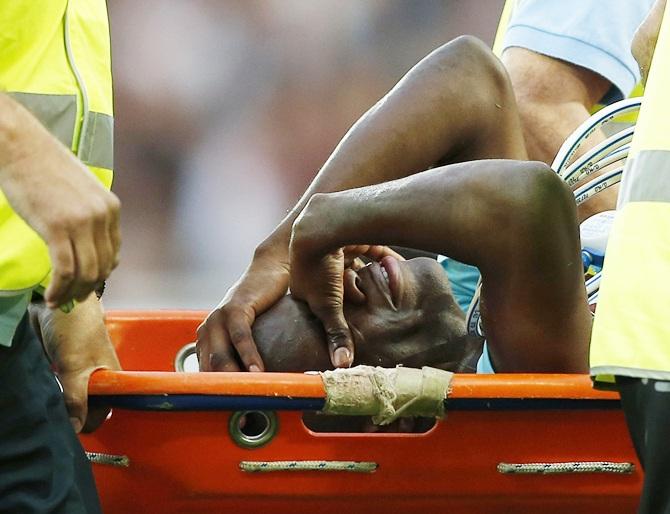 West Ham's Enner Valencia is stretchered off after sustaining an injury. Photograph: John Sibley/Reuters
West Ham United's Ecuadorian international Enner Valencia will be missing for up to 12 weeks at the start of the new season with a leg injury, the club said.
Head of Medical and Sports Science Stijn Vandenbroucke told the club website that there was still "a small chance" Valencia would need an operation.
"Enner visited the consultant on Monday morning, when we discussed the results of the scans he underwent on the injury last Friday," Vandenbroucke said.
"The outcome is that there is now a very small chance that he will need an operation and that we instead hope to treat the injury to his fibula using conservative treatment, which we hope to start in three weeks.
"We will know for sure whether or not Enner will need an operation next week, but if everything goes to plan we hope that he will be available for selection again within 10 to 12 weeks."
The injury leaves new manager Slaven Bilic short of strikers for the Europa League match away to Astra Giurgiu in Romania on Thursday, which is level at 2-2 after the first leg, and the opening Premier League game away to Arsenal three days later.