The crash that killed two-time Indianapolis 500 winner Dan Wheldon was the result of a "perfect storm" with no single factor pinpointed as the cause of the deadly accident, IndyCar officials said on Thursday.
- Indy 500 champion Wheldon dies in crash
- Wheldon bids farewell to the world in a fiery crash
Wheldon died when his open-cockpit car became airborne during a 15-car pileup at the IndyCar season finale at Las Vegas Motor Speedway in October and slammed into a post holding the catch fencing sustaining a "non-survivable" head injury.
The cause of death was included in the findings of an exhaustive two-month investigation into the crash that took the life of one of Britain's most successful race car drivers and sent several other drivers to the hospital.
"While several factors coincided to produce a perfect storm none of them can be singled out as the sole cause of the accident," IndyCar chief executive Randy Bernard said on a conference call. "For this reason it is impossible to determine with certainty that the result would have been any different if one or more of the factors did not exist."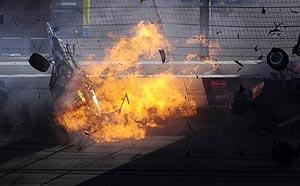 In the aftermath of the crash, drivers pointed to several factors as the potential cause for the accident, including the decision to run a large 34-car field sprinkled with part-time drivers on a lightning quick, high-banked oval.