Jagdish finishes a poor 103rd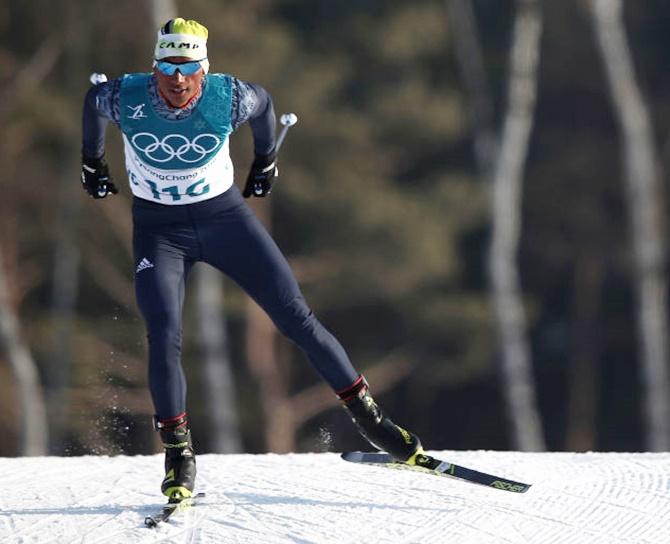 IMAGE: Jagdish Singh of India competes during the Cross-Country Skiing Men's 15km Free at Alpensia Cross-Country Centre. Photograph: Clive Mason/Getty Images
India's Jagdish Singh, on Friday, finished a dismal 103rd in the men's 15-km free cross-country skiing race at the Pyeongchang Winter Olympics, bringing down curtains on country's familiar disastrous show in the quadrennial Games.
The 26-year-old Jagdish, who was making his Olympic debut, clocked 43.03 minutes while crossing the finish line at the Alpensia Cross-Country Skiing Centre to end his race at 103rd out of 119 competitors.
Jagdish's time was 9:16.4 minutes slower than Switzerland's Dario Cologna, who took his third straight Olympic gold with a time of 33:43.9. Norway's Simen Krueger (34:02.2) won the silver while Denis Spitsov (34:06.9), an Olympic Athlete from Russia, took home the bronze.
The Indian, who trains at the High Altitude Warfare School (HAWS) at Gulmarg, was around 40 seconds slower than the leader in the initial 1.5 km mark but the gap widened as the race progressed.
At the halfway mark, Jagdish was 4:28 minutes slower than the leader and the time gap went on increasing though he was able to finish a few places above his 116th position start.
In cross-country skiing, athletes have to glide across a 15 km-long path on a snow-covered field in the shortest possible time. The track has uphill, level and downhill terrains.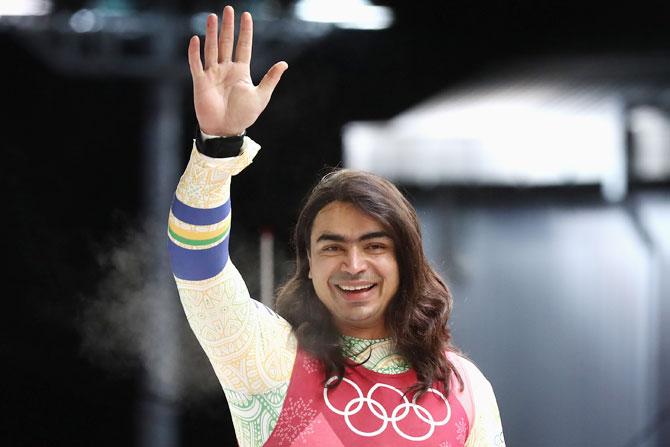 IMAGE: Shiva Keshavan is India's winter sports poster-boy. Photograph: Alexander Hassenstein/Getty Images
India is being represented by only two athletes in the Pyeongchang Winter Olympics. On February 11, Shiva Keshavan had finished 34th in the men's luge singles event in his sixth and last Winter Olympics.
In a country where winter sports is of very low profile, India has not produced any worthwhile performance in the Winter Olympics except that Keshavan's six Games participation was a remarkable achievement.
India took part in the Winter Olympics for the first time in 1964 in Innsbruck, Austria, where Jeremy Bujakowski, an alpine skier of Polish descent, represented the country. He was again there in the 1968 Games in Grenoble (France) before Shailaja Kumar, Gul Dev and Kishor Rahtna Rai -- all alpine skiers -- took part in the Winter Olympics in the 1988 edition in Calgary, Canada.
Keshavan then took the mantle of carrying the Indian flag in six Winter Olympics from 1998 in Nagano, Japan to Pyeongchang this time.