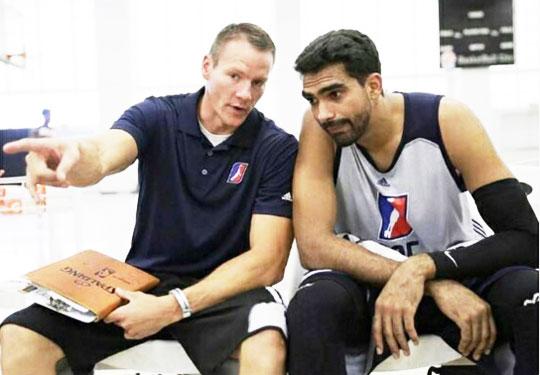 Palpreet Singh, winner of the ACG-NBA Jump National Finals, India's first national basketball talent search program, was selected 11th in the fourth Round of the NBA D-League Draft held in New York.
The 21-year old was drafted by the Long Island Nets, affiliate team of the NBA's Brooklyn Nets, on Saturday.
The 6ft 9in hoopster, who has been training at the New York Athletic Club in Manhattan, said:
"I am happy with the efforts I have put in and I will continue to work hard with Long Island Nets as this is just the beginning."
Palpreet, who impressed NBA champion Brian Shaw in the national finals of the 2016 ACG NBA Jump program held in February, was part of the 2016 NBA D-League National Tryouts held on August 14 in New York. More than 200 pro basketball prospects showcased their skills in front of NBA D-League player personnel executives, coaches, and industry scouts that day.
Palpreet Singh was discovered as part of an NBA talent search in India. There are more NBA talent searches planned in India and other countries as part of the league's ongoing international initiatives.
The NBA D-League's 16th season tips off on November 11 with record 22 teams.
The teams will hold training camps beginning on October 31, and will trim their rosters to 10 players on November 10, in advance of the start of the season.
The Long Island Nets will play in the Eastern Conference's Atlantic Division, along with the Maine Red Claws (Boston Celtics), Westchester Knicks (New York Knicks), Raptors 905 (Toronto Raptors), Delaware 87ers (Philadelphia 76ers) and Erie BayHawks (Orlando Magic).
Satnam Singh, who became the first Indian to be drafted into the NBA when he was selected 52nd overall by the Dallas Mavericks in the 2015 NBA Draft, represents the Texas Legends, the minor league affiliate of the Dallas Mavericks.
Image: India's Palpreet Singh (right) with one of the scouts
Photograph: india_basketball/Instagram