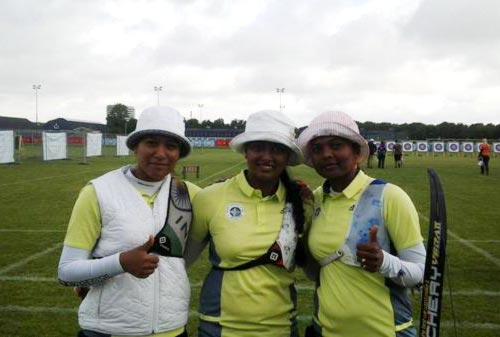 (Left to right): India's Rimil Buriuly, Deepika Kumari and Laxmirani Majhi. Photograph: OGQ/Twitter
The Indian women's recurve team earned Olympic quota for the 2016 Rio Games by entering the final, while the men's trio failed to advance after giving away a handsome lead, at the Archery World Championships, in Copenhagen, on Tuesday.

Pitted against seventh seeds Germany, the Indian trio of Deepika Kumari, Laxmi Rani Majhi and Rimil Buriuly showed nerves of steel to bounce back from a 1-3 deficit and register a thrilling 5-3 win and make the last eight -- the yardstick for making the Olympics cut.

But the experienced men's team of Rahul Banerjee, Mangal Singh Champia and Jayanta Talukdar failed to live up to expecations as they squandered a 4-2 lead before losing 26-29 to second seed Italy in a thrilling tiebreaker.

Banerjee, Talukdar and Champia can still earn individual berths by finishing among 32 when the individual section gets underway on Wednesday.

Coached by Poornima Mahto, the women's team on the other hand showed tremendous character after Karina Winter, Elena Richter and Lisa Unruh took away the first set 46-59 before they opened up a big lead.

But the Indians never gave up and snatched the match away with a thrilling 53-52 finish in the fourth set to earn their quota places for the next year's Olympics.

In the quarter-finals, the 10th seed Indian women's team defeated Colombia before beating Japan in the tie-break in the semi-finals.

The Indian women's team will face Russia in the summit clash on Sunday.

Archery Association of India treasurer Virender Sachdeva said from Copenhagen: "It's a commendable achivement by the girls. They showed nerves of stell to only secure an Olympic quota but also qualify for the final.

"The came up with brilliant performances under difficult conditions. It is raining on and off here and the conditions are very windy," he said.