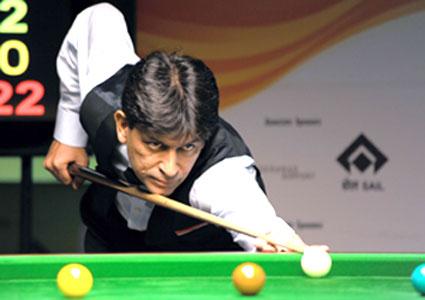 Ace cueist Geet Sethi squandered chances galore and suffered a shock 3-4 defeat against unheralded Costas Konnaris of Cyprus in the Masters' quarter-finals, as the Indian challenge ended in the World Snooker Championships in Hyderabad on Monday.
Another Indian medal contender, Kamal Chawla's impressive run in the tournament ended with a 1-6 thrashing at the hands of Igor Figueiredo of Brazil in men's quarter-finals.
Chawla lost 21-86, 06-85, 02-79, 06-72, 58-61, 52-28, 20-69 in a completely one-sided match.
Sethi, who was gunning for his maiden Masters' title, was cruising for a semi-final berth, leading 2-0 and then 3-1, only to concede three straight frames and lose 44-24, 76-43, 70-71, 54-15, 47-88, 48-63, 32-62 to his Cypriot opponent.
With the exit of Sethi and Chawla, the Indian challenge in the prestigious world event ended, as none of the home players got past the last eight stage.
On Sunday, India's biggest hope, reigning World champion Pankaj Advani suffered a stunning loss in the men's event. All the Indian women's players had also made exit from the tournament following the loss of Meenal Thakur and Vidya Pillai in the quarter-finals on Sunday.
Sethi started the proceedings on a confident note, pocketing the first two frames quickly. He carried on his form in the third frame and just when he was about to take a 3-0 lead, he committed a potting error and gave his opponent the much-needed break. Konnaris made full use of the opportunity and won the frame 71-70. However, the local favourite got his act together in the next to win it 54-15.
But, that was the last time Sethi smiled; after that Konnaris displayed some excellent potting and cushion-work to take the game from the hands of his higher-placed opponent.
Sethi was the runner-up in the Masters' category last year at Wels, Austria. He lost to the reigning champion, New Zealand's Dene O' Kane.
In the men's event, Chawla was put under immense pressure from the start by Figueiredo, who rode high on his long distance potting to draw curtains on the impressive run of the youngster at the Hyderabad International Convention Centre.
In another match of the day, India's Lucky Vatnani lost 61-21, 29-58, 56-66, 40-103, 60-26, 66-36, 17-89, 42-62 to Scotland's Anthony McGill in the pre-quarter-finals of the men's event.