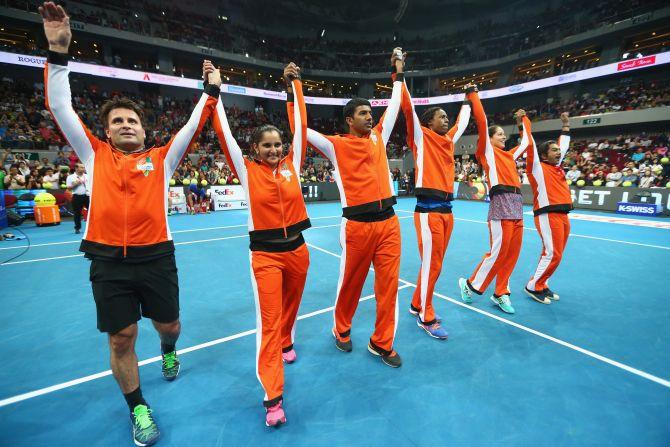 The Indian Aces celebrate after their victory against the UAE Royals. Photograph: Clive Brunskill/Getty Images for IPTL 2014
Indian Aces notched up their third win on the trot with a 28-20 victory over UAE Royals in the battle of two unbeaten sides in the International Premier Tennis League match, in Manila, on Sunday.
After the win, Indian Aces topped the table after the Manila leg to emerge early front-runner in the tournament.
The Indian side, however, began with a loss with Ana Ivanovic going down fighting 4-6 in the Kristina Mladenovic in the first women's singles. The battle of the in-form women's singles players was a thrilling contest with Ivanovic almost making a sensational comeback from 1-5 down before eventually losing the match.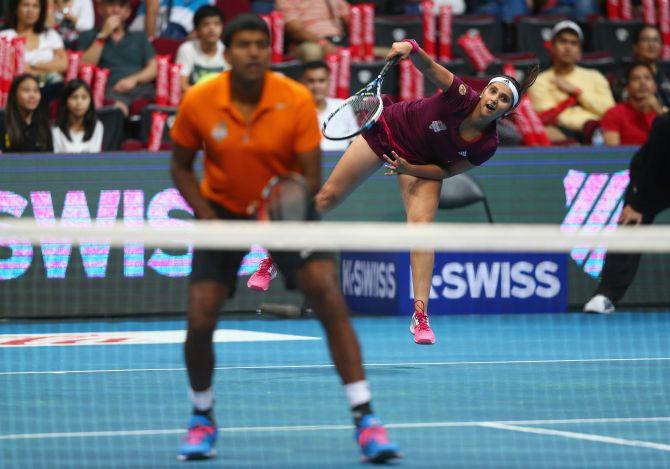 Sania Mirza and Rohan Bopanna of the Indian Aces in action. Photograph: Clive Brunskill/Getty Images for IPTL 2014
Experienced mixed doubles pair Sania Mirza and Rohan Bopanna registered a 6-3 second set win over Mladenovic and Nenad Zimonjic and Indian Aces took the advantage with Bopanna partnering the crowd favorite Gael Monfils to a 6-4 victory over Zimonjic and Marin Cilic in men's doubles.
An injury pulled Cilic out from early in the set against Monfils, but Malek Jaziri was a more than capable substitute. However, the creative Frenchman Monfils pulled off a 6-3 win to extend the Indian side's lead.
The past champions' singles was the main event worth waiting for, with big serves and entertaining shot-making from Goran Ivanisevic and Fabrice Santoro. Frenchman Santoro emerged 6-4 winner over Ivanisevic to complete the dominance by Indian Aces.
Monfils was later all praise for the kind of tennis being played in the tournament.
"I love this format. This suits me well. I love the team atmosphere. We have fun out there. Actually we're good friends - Ana, Sania - we grew up together. It's a good competition because we have fun," he said.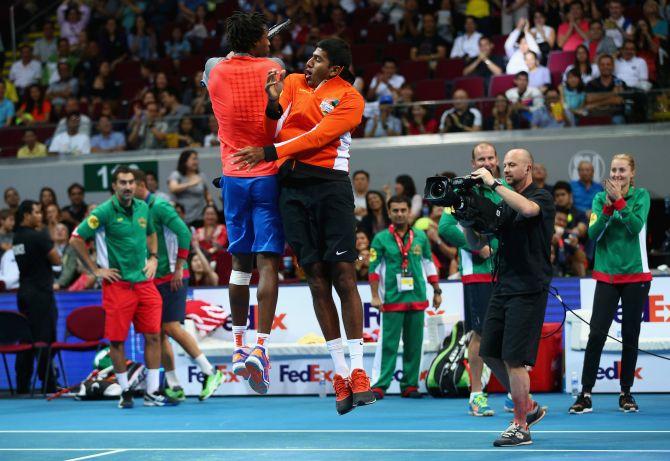 Gael Monfils and Rohan Bopanna of the Indian Aces celebrate a point. Photograph: Clive Brunskill/Getty Images for IPTL 2014
Monfils also commented on the use of a coach's substitution.
"I was surprised with the substitution (of Cilic). Malek is tough but I think I was in great shape. I'm happy to win for my team. After three wins, I feel great, I feel strong."
Bopanna added, "We're having a lot of fun and keeping each other motivated."
Player coach Santoro said he enjoyed his time in Manila.
"I will remember the hospitality and how many people love tennis here and are happy to see the best champions in the world and if you ask the crowd they'll want to have this back again next year."