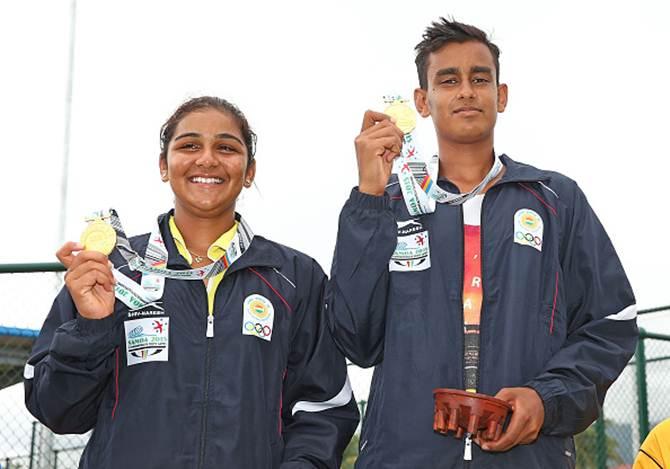 IMAGE: India's Dhruthi Tatachar Venugopal, left, and Sasikumar Mukund pose with their gold medals at the medal ceremony for tennis mixed doubles at the Apia Park Sports Complex on Day 5 of the 2015 Commonwealth Youth Games, in Apia, Samoa. Photograph: Mark Kolbe/Getty Images
India ended their Commonwealth Youth Games campaign in style, winning two of the four gold on offer on the concluding day and finishing fifth in the overall medal tally, in Apia, Samoa, on Friday.
Sasi Kumar Mukund and Dhruthi Tatachar Venugopal won the boys' and girls' singles titles in tennis to add to their mixed doubles success together earlier at the Games.
India thus won three out of five gold on offer in tennis.
With Friday's two gold medals, India finished fifth in the overall tally with 19 medals (9 gold, 4 silver, 6 bronze) behind Australia (24, 19, 19), South Africa (13, 7, 15), England (12, 16, 16) and Malaysia (11, 3, 3).
Dhruthi brushed aside the challenge of Namibia's Lesedi Jacobs in the girls' singles summit clash, winning 6-3, 6-0.
"I stayed focused and gave my best every time I was on court. I think that's what got me through. Today was definitely one of the best games," Dhruthi said.
In boys' singles final, Mukund controlled the game with his fast serves and power hits, proving too good for Scotland's Ewen Lumsden in a 6-1, 6-2 victory.
"For this match I was really confident. Going in I knew that I was going to play really well. I just had the will to win and I always give 100 per cent," he said.
Talking about the mixed doubles triumph, Dhruthi said, "It was the first time playing together and it was amazing playing with him (Kumar Mukund); it was a good experience. I hope we can play together in future."
The Chef de Mission of the Indian contingent, Jharkhand Athletics Association president Madhu Kant Pathak, did the honours at the mixed doubles medal ceremony, presenting the gold to Mukund and Dhruthi.
Twenty-five Indians took part in the five-day multi-sporting event hosted by this Pacific island nation of Samoa. Athletes aged 14 to 18 from 40 countries participated in 107 events across nine disciplines.
"Samoa has truly delivered... the warmest, friendliest Commonwealth Youth Games ever," declared Commonwealth Games Federation president Louise Martin.