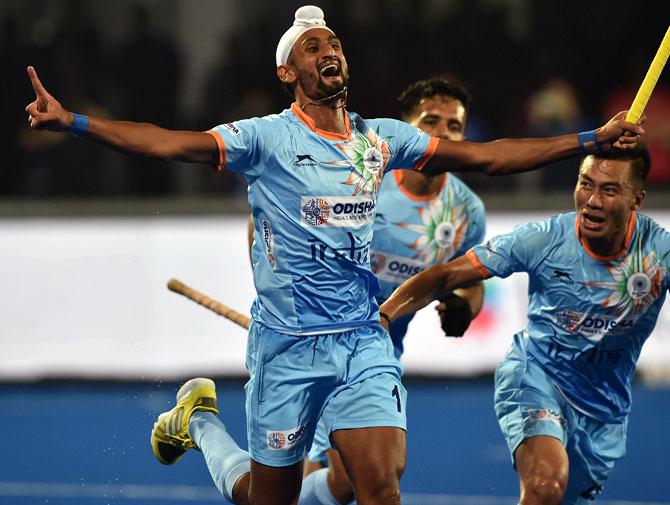 India started their campaign in the men's hockey World Cup on a rousing note, thrashing South Africa 5-0 in their opening Pool C match, at the Kalinga stadium, in Bhubaneshwar, on Wednesday.
Simranjit Singh, who scored a fine brace, was named man of the match.
India next plays No. 2-ranked Belgium, who beat beat world No. 11 Canada 2-1 in the tournament opener, on December 2.
India last played South Africa at the 2014 Commonwealth Games and won 5-2. The last time the teams met in the World Cup was in 2010, and the match ended in a 3-3 draw.
The hosts made a whirlwind start and repeatedly stormed the South Africa citadel, but Lalit Kumar and Mandeep Singh were erratic in front of goal.
However, Mandeep make amends and put the 1975 champions ahead through their first penalty-corner in the 11th minute, slamming the ball home after Harmanpreet Singh's high drag-flick was parried by South Africa goalkeeper Rassie Pieterse.
The penalty-corner was awarded following a referral by the Indians.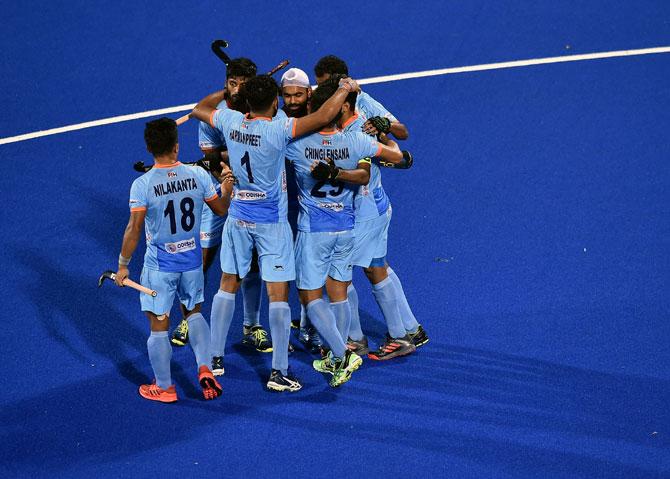 Aakashdeep made it 2-0 two minutes later, sounding the board after trapping a long through ball.
India forced their second penalty-corner two minutes into the second quarter, but Harmanpreet Singh's low flick was saved by a defender.
The South Africans made two rare breakthroughs into the Indian circle and did well to deny the Indians another goal despite being under pressure for much of the second quarter.
Four minutes into the third quarter, India forced their third penalty corner but without success.
With four minutes to go, the Proteas were rewarded for throwing more men into attack and got their first penalty-corner. However, they made a mess of it to the relief of the partisan crowd at the Kalinga stadium.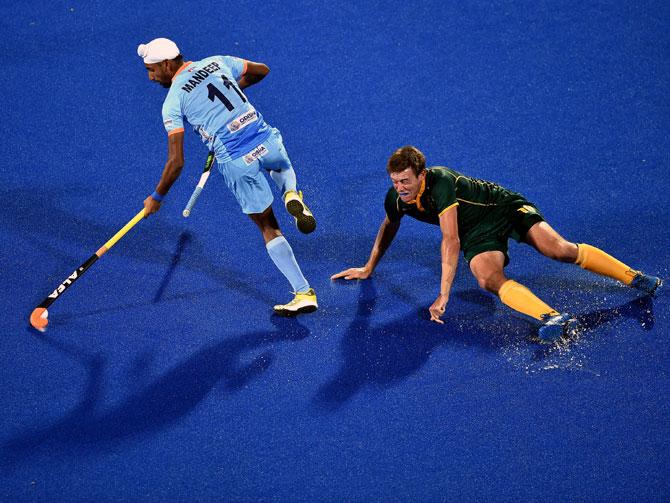 Just as it looked as if they had done enough to deny India another goal, Simranjeet Singh made it 3-0 with two minutes left in the third quarter after Mandeep worked his way into the circle from the right and sent a precise pass to him.
Lalit Upadhyay then added to their misery, deflecting home a long hit to make it 4-0 in the next minute.
India increased the lead immediately on resumption in the fourth quarter, Simranjit Singh getting his second goal of the match by deflecting the ball home after a melee following the fourth penalty-corner.
It could have got worse for the South Africans had goalkeeper Pieterse not pulled off a brilliant save.
Late in the contest the South African got their second penalty-corner but failed to make it count.