'There is lack of competition in India'
'There are other things in the socio-economic arena which becomes more important than becoming an athlete'
'I don't know of any magic wand but I think India you need to change because you have a zillion people and you could have 100,000 great Olympians'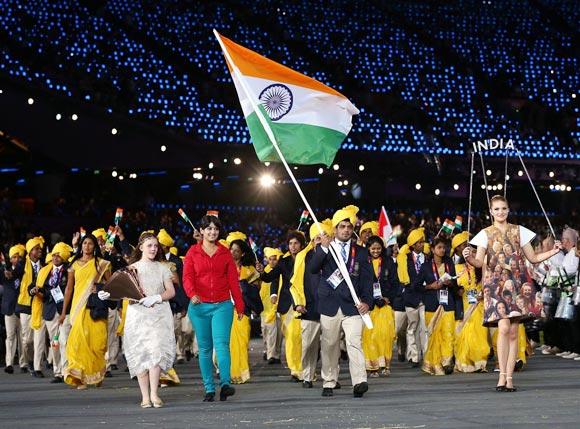 Sushil Kumar carries the Indian flag during the opening ceremony of the London 2012 Olympic Games. Photograph: Cameron Spencer/Getty Images
Nine-time Olympic champion swimmer Mark Spitz feels India need to bid for the Summer Games to inspire their people to take up sport and become a sporting nation.
Spitz, who won seven gold medals at the 1972 Summer Olympics in Munich, said there is lack of competition in India and also socio-economic factors have stopped the country in producing more Olympians.
"I don't think it is the economics, it is the lack of competitive level. In America, there is tremendous competitive environment in the colleges and it enhances the abilities of athletes," said Spitz during an interaction with Indian media a day ahead of the Laureus World Sports Award.
"We see people from Australia and England coming to America but it is not an exclusive thing. India can also outsource if they choose to but I think in India it is a cultural thing. There are other things in the socio-economic arena which becomes more important than becoming an athlete. There is family traditions, religious traditions, etc which sacrifices the importance of athletics a little bit.
"I don't know of any magic wand but I think India you need to change because you have a zillion people and you could have 100,000 great Olympians, unless you bid for the Olympics and inspire people and change the mindset. But you can't change the hundreds of years of traditions," he added.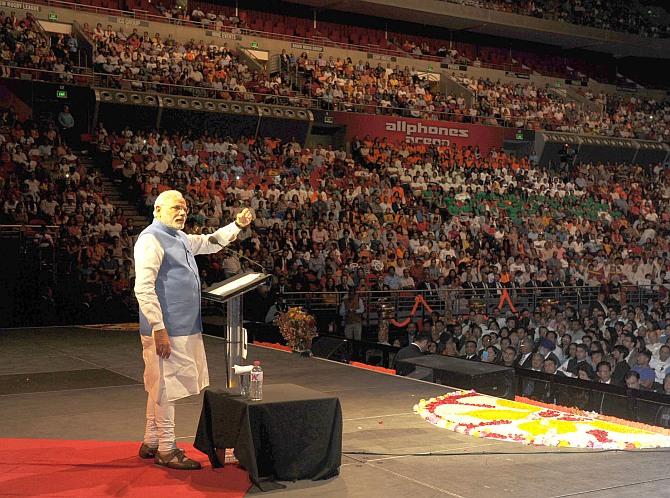 Interestingly, India are exploring the possibility of hosting the Olympics and Prime Minister Narendra Modi and International Olympic Committee president Thomas Bach are scheduled to meet later this month in New Delhi to discuss the nation's likely bid for the 2024 Games.
Spitz's record of seven golds was only surpassed by USA's Michael Phelps, who won eight golds at the 2008 Summer Olympics in Beijing, and the American legend reckons that his compatriot will leave the stage with a bang in the next edition in Rio de Janerio.
Asked who would be the next big thing in swimming in the 2016 Olympics, Spitz said: "I still think it will be Phelps. He is probably going to make the Olympic team. Australian Grant Hackett too has been pretty successful and I assuming again, he will also probably make the Olympic team if he stays healthy. It is great for the sport.
"Phelps will be 31 next Olympics and he is right there towards the end but I think he will go out with a big bang. He will win some medals and I think those will be gold medals.
"I don't think we will see him compete in 8 events but he will swim in 100m and 200m freestyle to make the relay team. He may win the 100m butterfly," said Spitz, who was named World Swimmer of the Year in 1969, 1971 and 1972 by Swimming World Magazine.
The 18-time Olympic champion, Phelps is entering in five events at the Arena Pro Swim Series in Mesa, Arizona, beginning on Wednesday, his first meet since returning from a six-month suspension.
On the growing doping menace, Spitz said: "I think the international Olympic committee has done a good job at attempting to control doping. They are the first group to do that in 1968 at Mexico City. There will always be someone to beat the system, so we can't fault the system for not being rigid enough.
"The Olympic committee publishes a list of the drugs that they are going to test for six months before the Olympics, so if you are on any of these then you better get off and if you are not and if you are on some drugs which they are not testing for and it is working for you then you slide right through. So the question is how do you safeguard yourself against something like that, I don't know what the answer is," he added.
Many female athletes, including Indian sprinter Dutee Chand, faced bans for high levels of testosterone.
Asked if it is unfair on female athletes, Spitz said: "I think the question we have to ask is that may be the level of testosterone for females needs to be proportionate to the level of a standard that is little lower and therefore females would not be able to get to that level. That is the problem that occurs. The IOC knows but haven't done anything about it.
"The reason being this level of male testosterone is a pretty stabilised number, while there is too much of a variant in females. So they don't do anything. It is not illegal for females to work on to reach the male levels, but it is an ethical thing which is not my choice," he said.