The Indian men's hockey team had their date with history as they clinched a maiden appearance in the final of the prestigious 36th Hero Champions Trophy hockey tournament against formidable Australia after hosts Great Britain held Belgium to 3-3 draw in a final round-robin match on Thursday night.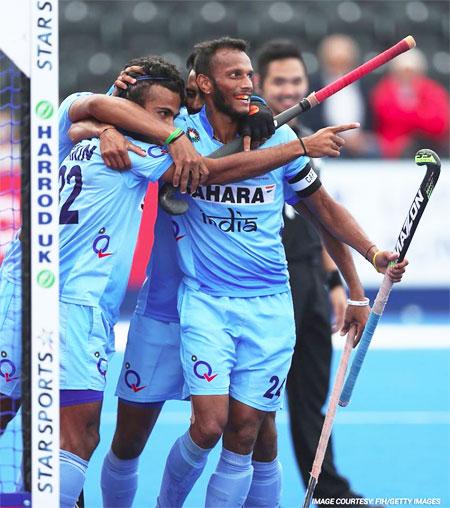 It will be India's first appearance in the summit clash since the inception of the blue-riband six-nation tournament in 1978.
- Hockey: India's fate on hold after 2-4 defeat to Australia
India's only podium finish was way back in 1982 at Amsterdam, when the team won a bronze medal.
India made the final thanks to Great Britain, who rallied from a two-goal deficit to hold Belgium 3-3 in a cliffhanger at the Lee Valley Hockey Centre late on Thursday.
This was after India lost 2-4 to title favourites Australia in their last round-robin encounter.
The draw between Great Britain and Belgium meant both of them finished behind India in the round-robin league, paving the way for India to play World champions Australia in Friday's title encounter.
Australia topped the league standings with 13 points from five games, while India ended with seven points. Great Britain ended on six points and Belgium were left on four points.
Britain will feature in the bronze medal match with dethroned title holders Germany, who outplayed South Korea 7-0.
This was Germany's biggest win over the Koreans in international matches.
Belgium will take on South Korea in the play-off for fifth position.
Starting the day's proceedings with a 2-4 loss to top-ranked Australia, the Indian players went through a pensive wait for the result of the last league fixture as both Great Britain and Belgium could have scraped ahead of India.
Britain simply required a victory to go past India on points, while Belgium needed to win by three goals or score at least four in a two-goal victory to finish ahead of India on goal difference.
All three possibilities were within close distance until the last stages, leaving Indian fans at the stadium on tenterhooks. Even the last British shot at the goal with five seconds left could have taken the hosts into the final, but the ball went a few centimeters wide off the post.
The Indian team had left the ground after their match and followed the developments at the hotel, while the pendulum swung from one side to the other in a dramatic sequence.
- India address late goal concern to boost Rio hopes
Image: India hockey players celebrate a goal
Photograph: Hockey India/Facebook