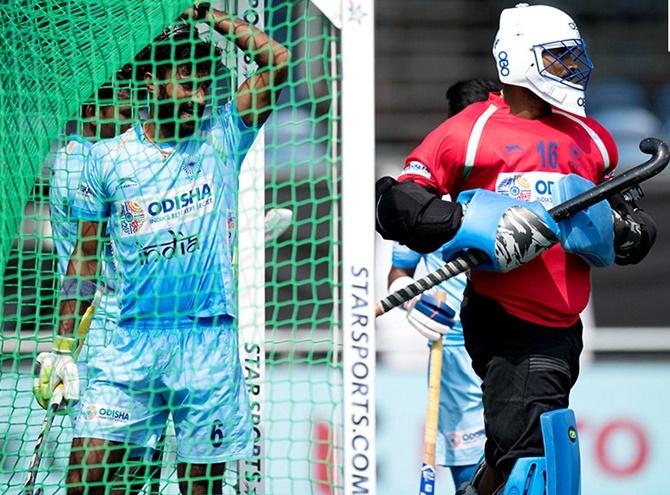 India put up a valiant fight before defending champions Australia pipped them 3-2 in an absorbing encounter in the six-nation Champions Trophy hockey tournament, in Breda, the Netherlands, on Wednesday.
Australia, the reigning World champions produced their best show in the tournament, scoring through Lachlan Sharp (6th minute), Tom Craig (15th) and Trent Mitton (33rd) to secure full points.
The Indians, however fought till the end, scoring through Varun Kumar (10th) and Harmanpreet Singh (58th), before a nail-biting finish.
The defeat means India slumped to third in the standings with six points from three games while Australia climbed to the top with seven points from an identical number of matches.
The Netherlands are second in the table with six points.
The top two sides after the round-robin stage of the six-team event, will play the final on Sunday.
India's next match is against Belgium on Thursday.
The match witnessed plenty of scoring chances by both the sides in the form of penalty-corners.
While Australia secured seven penalty corners, India could make use of just one of its nine set pieces.
Australia got off the blocks quickly and took the lead in the sixth minute through Sharpa, who tapped home an Eddie Ockenden's feed from close quarter.
The Indians got two penalty-corners in quick time soon but, on both occasions, Birendra Lakra failed to stop Sardar Singh's push.
But Varun levelled the scores soon when he slammed home SV Sunil's feed from the right flank.
Mandeep Singh's shot from top of the circle was then saved by Australia goalkeeper Tyler Lovell before Indian custodian PR Sreejesh produced a fine save to deny Jeremy Hayward from Australia's firs penalty-corner.
But just seconds from the end of the first quarter a lapse in concentration from the Indian defence proved costly as Craig scored from a goal-mouth melee.
Just after the second quarter India secured two quick penalty-corners but on both occasion Harmanpreet faltered.
Surender Kumar then made a goalline save to deny Jake Wheeton before India wasted another set piece.
Sreejesh then made anoher brilliant save from Australia's fourth-penalty corner to keep away Blake Govers as India went into the breather trailing by a goal.
The Kookaburras came out stronger after the break and increased their lead to 3-1, when Mitton scored from top of the circle with a fierce hit.
Australia dominated the proceedings thereafter, earning three penalty-corners but Sreejesh was up to the task.
Trailing by two goals, India exerted pressure on the Australian defence and in the process secured three penalty corners in succession, the last of which was converted by Harmanpreet, two minutes from the hooter.
The Indians had another golden opportunity to restore parity ,seconds from the hooter in the form of a penalty corner but Harmanpreet's try was ably defended by the Australians.