India to set record of farthest distance between two venues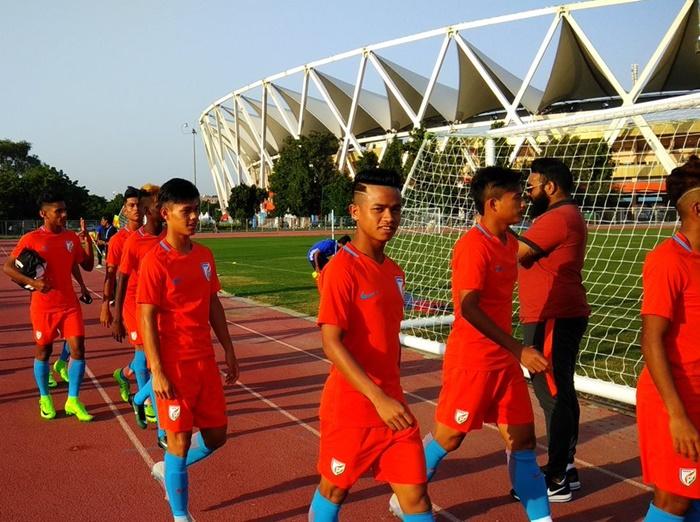 IMAGE: Team India at Jawaharlal Nehru Stadium in New Delhi. Photograph: Indian Football Team/Twitter
India, hosting its first ever FIFA tournament in the U-17 World Cup, will set the record of having the farthest distance between two venues in the event's history.
Six venues will host the October 6-28 tournament and the vastness of the country, which is hosting the 17th edition, meant that it will go into record books.
The distance of 2,431 kilometres between Jawaharlal Nehru International Stadium in Kochi and Indira Gandhi Athletic Stadium in Guwahati is the farthest between two venues in the history of the tournament, which started in 1985.
The four other venues are Jawaharlal Nehru Stadium in New Delhi, Nehru Stadium in Margao, D Y Patil Stadium in Navi Mumbai and Vivekananda Yuba Bharati Krirangan in Kolkata.
Vivekananda Yuba Bharati Krirangan, which will host the summit clash on October 28, is the biggest stadium and it can host 66,600 fans.
The country's third-largest stadium is located in Kochi with a capacity of over 60,000 spectators.
Three teams -- Niger, New Caledonia and hosts India --are either making their maiden FIFA U-17 World Cup appearance or their first-ever outing at a FIFA tournament. India were invited to the 1950 FIFA World Cup but were unable to make the trip, and since then, they have not managed to qualify.
The competition attendance record of the FIFA U-17 World Cup was set at Mexico 2011 when 98,943 spectators poured through the turnstiles at the Estadio Azteca to watch the final between Mexico and Uruguay.
The highest overall tournament attendance was in China in 1985 in the inaugural tournament, with 1,231,000 fans flocking to the stadiums, averaging 38,469 fans per game.
1,859 goals have been scored in the tournament's history to date. Nigeria's Victor Osimhen is the tournament's all-time top scorer after netting ten times in a single edition.
Osimhen scored at will during the Chile edition in 2015, winning the adidas Golden Boot and leading his team to the title.
The number of goals scored in 52 matches in the last edition in United Arab Emirates in 2013 was 172 at an avergae of 3.30 per game. The average was only higher at Japan 1993 (3.34 per game), Peru 2005 (3.47), Egypt 1997 and Finland 2003 (both 3.66).
Incidentally, Brazil are the most prolific team in competition history with 166 goals.
Brazil have contested the most games with 75, followed by Nigeria (63) and Argentina (61). Brazil also boast more victories than any other nation, with 47 wins so far. Nigeria have recorded 46 victories, giving them an impressive 73 per cent win ratio.
Twelve players have won the FIFA World Cup after participating at the U-17 tournament. They are Toni Kroos, Mario Gotze, Emmanuel Petit, Ronaldinho, Gianluigi Buffon, Alessandro Del Piero, Francesco Totti, Iker Casillas, Cesc Fabregas, Andres Iniesta, Fernando Torres and Xavi.