Saina Nehwal of India in action. Photograph: Kim Kyung-Hoon/Reuters
India made a resounding start in the individual badminton event, with ace shuttlers Saina Nehwal and P V Sindhu sailing into the second round of women's singles competition.

While Olympics bronze medallist Saina made mincemeat of lesser-known U Teng Iok of Macau, winning 21-10, 21-8 win, Sindhu whipped Kit Leng Wong of Macau 21-17, 21-13 in another lop-sided match that lasted 19 minutes, at the Gyeyang Gymnasium in Incheon.

The Indian women's doubles pair of Pradnya Gadre-Sikki Reddy Nelakurthi and men's doubles combination of B Sumeeth Reddy-Manu Attri also stormed into the second round with easy victories.

Pradnya-Sikki gave a lesson or two to the lower-ranked Sichhya Shrestha-Punam Gurung of Nepal, winning 21-16, 21-4 in 16 minutes.
Sumeeth-Manu too hardly broke a sweat as they brushed aside Nasheeu Sharafudden-Mohamed Sarim of Maldavis 21-7, 21-7 in another lop-sided match that lasted just 19 minutes.

In the women's singles match, Saina did not have to exert herself as her opponent made too many mistakes and handed her easy points. There were hardly any rallies in the match as Iok kept sending the shuttle wide and long.
Eighth seed Sindhu also did not have any problem for most part but committed too many unforced errors in the dying moments of the match when leading 19-9 to gift away
a few easy points to Wong.

However, it was all over soon when Wong hit long and then found the net.
However, the Indian men's doubles pair of Akshay Dewalkar-Pranaav Jerry Chopra lost 10-21, 15-21 to the Chinese combo of Cai Yun and Fu Haifeng.

Parupalli Kashyap and K Srikanth have been handed byes in the opening round and start their campaign on Thursday in the round of 32 of the men's singles.
Dushyant wins bronze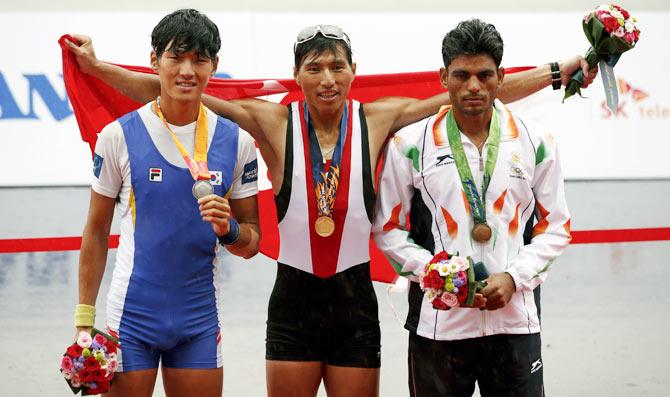 Gold medallist Hong Kong's Lok Kwan Hoi (centre), silver medallist Lee Hak-beom of South Korea (left) and India's bronze medallist Dushiant Dushyant. Photograph: Kim Hong-Ji/Reuters
Inclement weather dashed Indian rower Dushyant Chauhan's strong bid for a gold medal, forcing him to settle for a bronze in the men's lightweight single sculls.
The Army rower, hailing from Haryana and belonging to the Bengal Engineering Group in Roorkie, led from the 500m mark till the last 200m in the 2000 metres race before strong northerly winds and rain put paid to his gold medal hopes, as he fell behind two others and finished third, clocking 7:26.57 seconds.

"I was confident of the gold but my lane was the most affected by the strong wind. However, I am happy to win the bronze medal," said the 21-year-old.
Chauhan was second, behind gold medallist Lok Kwan Hai, by just under two seconds after the first 500m and then caught up with his opponent before overtaking him in the course of the next 500m and looked assured of a gold before inclement weather hampered his chances.

He not only lost the gold medal, but also the silver as the host country's Lee Hakbeom, who was third with 500m left, also surged past him to clinch second spot in 1:56.19s.

It was the first medal of the day after a fruitless stint at the shooting range for India and the 10th bronze in the Games.

Rowing Federation of India secretary-general M V Sriram also rued the loss of a gold for Chauhan.

"He led for most of the race and should have won the gold," he said.

Rowing had proved a happy hunting ground for India in the last Asian Games in Guangzhou four years ago when single sculler Bajrang Lal Takhar created history by winning the first rowing gold after his silver in Doha in 2006.

The Indian team comprises 22 men and nine women rowers, accompanied by four coaches and a physio.
Pallikal loses but India upset Hong Kong in squash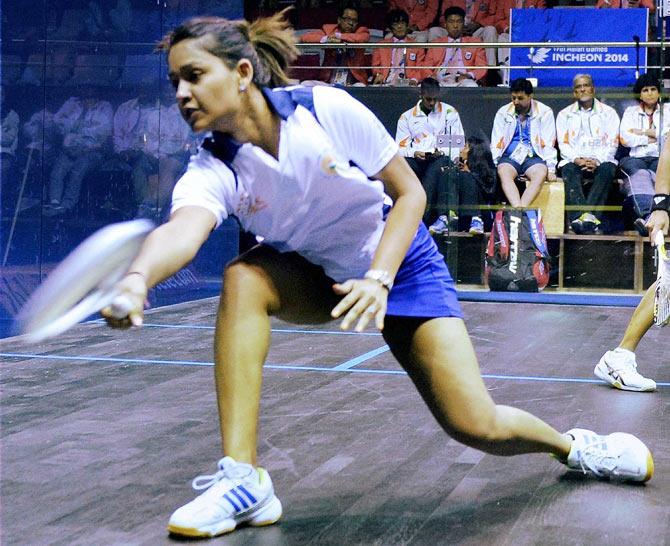 Dipika Pallikal of India in action. Photograph: PTI Photos
India took a big step towards winning another squash medal at the Asian Games after the women's team upset Hong Kong 2-1 in its opening match.

Joshna Chinappa and Anaka Alankamony won their matches after India number one Dipika Pallikal lost the opening singles to Hong Kong's top player Annie Au in five gruelling games.

India, who had to settle for a bronze in Guangzhou four years ago, have a good chance of winning a silver this time.

Having beaten fancied Hong Kong, they will be confident of getting past Pakistan and China and finishing on top of Group B.
In that scenario, India is likely to face either Korea or Japan from the other group in the semi-finals. It is highly unlikely that Japan or Korea will finish ahead of mighty Malaysia in Pool A.

"We have a good chance for silver now but we are not thinking too far ahead. Hopefully we can top our pool and take it forward from there," world No.12 Pallikal said.

India's first ever women's singles bronze medallist at the Asian Games went down fighting to 11th-ranked Annie 11-5, 6-11, 8-11, 12-10, 9-11, giving the opposition an early advantage.

Word No. 21 Chinappa had to win against 23rd-ranked Joey Chan to keep India alive in the tie.

She staged a remarkable recovery to keep the team afloat in the competition, coming back from two games down to win 6-11, 8-11, 11-5, 11-9, 11-9.

World No. 158 Anaka Alankamony, who was controversially nominated for the Arjuna award last month, was up against 42nd-ranked Tong Tsz Wing.

The Indian, whose ranking has dropped drastically over the last two years, played a solid match to give India an unexpected win. The final scoreline read 11-8, 11-13, 11-9, 11-5.
Shooters fire a blank on fifth day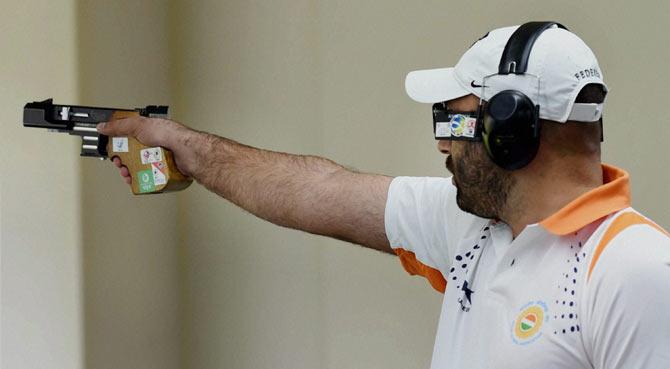 Harpreet Singh of India. Photograph: PTI Photos

After scooping six medals, including a gold by Jitu Rai, on the first four days of the Games, Indian shooters drew a blank on the fifth day of competition at the Ongnyeon pistol and rifle range.

India had chances of winning four medals from the 25m rapid fire pistol event for men and the 50m rifle prone for women but could not get even one on a disappointing day for the shooters.

The Indian men's 25m rapid fire pistol team narrowly missed out on a bronze as they finished fourth after ending up with a tally of 1704 points, the same as Vietnam. The bronze was decided on 'innner 10' count and Vietnam bagged the medal as they had 41 hits at the innermost ring as against 39 by the Indians.

India's chances of a medal in the individual event rested on Harpreet Singh but he failed to qualify for the final round after finishing seventh.

Harpreet started off promisingly to have a score of 197 out of 200 in his first 20 shots but could not sustain the momentum in the next 10, missing seven marks, including three in the last five, to end up with 290 out of 300.

He still had a chance to make a grand rally and did it over the next 20 shots in which he missed only five shots combined.

But nerves overcame him and he was way off target in the last 10 -- missing two between 51 and 55 and three more over the last series of five shots and his tally of 578 got him the seventh spot -- one rung outside the top six who qualified for the finals. His sequence of scores read 98, 99, 93, 98, 97 and 93.

Harpreet's team mates, Gurpreet Singh and Pemba Tamang, performed poorly and ended up 12th and 20th with respective overall tallies of 570 and 556.
Gurpreet's sequence was 97, 98, 89, 98, 97 and 91 while Tamang fired 99, 93, 85, 91, 94 and 94.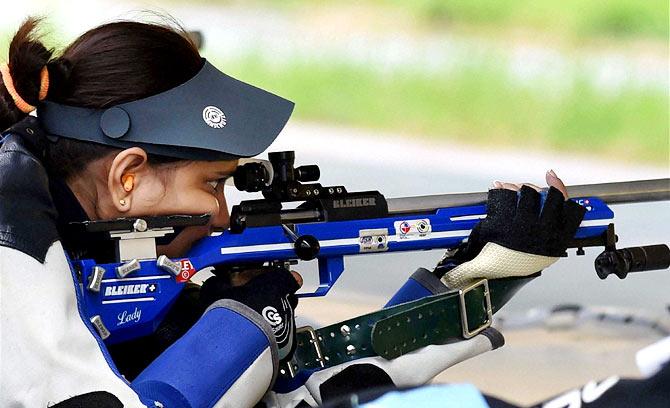 Raj Chaudhary of India. Photograph: PTI Photos

The Indian women were even more disappointing, with Raj Chaudhary, the main hope, starting well in the women's 50m rifle prone individual event before tapering off to finish 22nd out of 43 shooters with an aggregate score of 614.6.
Lasjja Gausswami (25th; 613.7 points) and Tejaswini Muley (36th; 608.8 points) were totally out of depth.

As a result, the Indian women finished outside the medal bracket in the 50m rifle prone team event too, ending up 11th out of 13 countries with an aggregate of 1837.1.

India's main prone rifle shooting hope Raj Chaudhry also began her event promisingly before pressure got the better of her.

Raj, who was shooting well till the 40th shot in the 60-shot prone finals, took a break and then had a horrid sequence over the next 10 shots during which she secured three 9-plus scores, including the lowest of 9.5, that pegged her back.

After a string of 9-plus scores between the 13th and 15th shots, she took a long break and then shot consistently in the 10s till the 30th shot. She had a high of 10.7 and a low of 9.9 and tallied 103.4 in the 10-shot sequence from 31st to 40.

However, another break upset her rhythm and her form dipped and she finished way behind. Her scores were 104.4, 101.6, 102.4, 103.4, 10.4 and 102.4.

Lajja's sequence of scores were 100.2, 103.0, 104.2, 102.5, 102.3 and 101.5 while Tejaswini was the worst of the lot as she fired 102.8, 99.3, 103.4, 101.3, 103.1 and 98.7.
Boxer Thapa advances to pre-quarters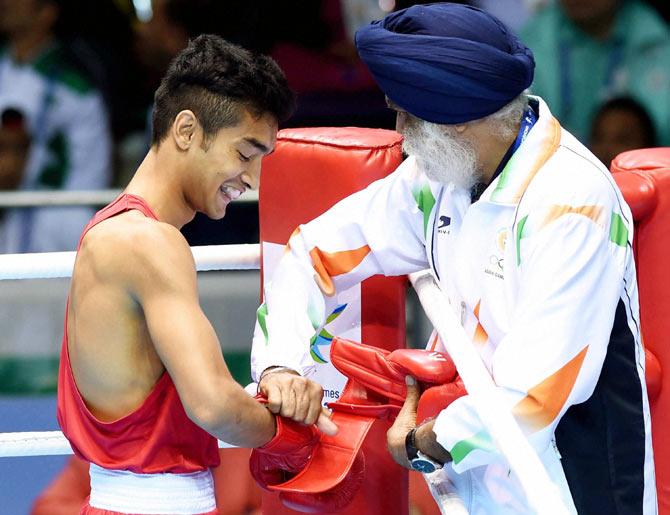 Shiva Thapa (left) with India's boxing coach Gurbax Singh Sandhu. Photograph: PTI Photos
India's Shiva Thapa advanced to the round of 16 in the 56kg men's bantamweight category without throwing a single punch after being awarded a walkover.
His opponent, Leonel Parada Helo of East Timor, failed to turn up for the match, which meant that the young Indian boxer was declared winner.
Thapa, 20, will take on Pakistan's Nadir in the pre-quarter-finals.
India crush Maldives to enter quarters in men's volleyball

India crushed unfancied Maldives 25-10, 25-19, 25-17 in exactly an hour to storm into the quarter-finals of the men's volleyball competition.

The male spikers had beaten Hong Kong in their first group league game and, by virtue of two wins in the four-team group, assured themselves of a place in the last eight.

India will play the formidable Iran (Asia No. 2) in the final group league encounter. Iran are silver-medallists from the last edition of the Games in Guangzhou.

It was one of the easiest matches for India, who are ranked 37th in the world compared to a lowly 85th of Maldives.

Having rested their key spiker, the 6ft 9 inch Vaishnav, it was young Rajasthan boy Lovemeet Kataria, who played a major role in India's victory

The 21-year-old was a livewire on court with brilliant interceptions at the net followed by innumerable killer spikes.

He was ably complemented by Railwayman Prabhakaran, who also executed perfect spikes. Skipper Navjit Singh and former captain Gurinder Singh also had a good game. Setter Naveen Jacob's deft angular placements also created more trouble for the Maldives.

Such was India's domination that libero Kanagaraj Sivasubramanium did not have much retrieving to do. Maldives certainly gave a better account of themselves as they were locked 4-4 in the beginning. However, the Indians played the key points well, winning the second game at 19.

In the third set, Maldives, for a brief period, led India 4-3 but the joy was shortlived as a flurry of spikes got the winners race to a 7-4 lead. Navjit served really well and also smashed well as India took a 20-12 lead before knocking off the remaining points in style.
Indian men cagers lose to Iran; crash out of Asian Games

India crashed out of the men's basketball competition in the Asian Games after losing to Iran in a preliminary round match.

The Indian team lost 41-76, their second consecutive defeat in preliminary round Group E, to make an exit from the tournament. They had lost 76-85 against Philippines on Tuesday. Only two teams from Group E will qualify for the quarter-finals.

The Indians, who had topped their qualifying round group, gave a tough fight to the Iranians in the beginning but they lost way as the four-quarter game wore on.

The opening quarter saw India scoring 16 against 22 of Iran and then 12 against 16 in the second. Iran were ahead by 10 points at 38-28 at the midway stage.

But from there, it was Iran all the way till the end as they outplayed the Indians with their superior skills. India could just score eight and five points in the final two quarters as against 20 and 18 by their opponents.

Captain Amritpal Singh was the top-scorer for India with 10 points while Vishesh Bhriguvanshi fetched nine points and Narender Kumar eight.

For Iran, captain Mohammad Samad Khahbahrami and Hamed Ehadadi got 16 points each while Mohammad Jamshid Jafarabadi scored 14.
Indian teams suffer second defeat in sepaktakraw

The Indian men's and women's sepaktakraw teams suffered their second consecutive defeats leaving them with little chance of advancing to the next round.

Both the men's and women's teams suffered an identical 0-3 thrashing at the hands of defending champions Thailand in the preliminary round matches at the Bucheon Gymnasium Court in Incheon.

The Indian men were simply outplayed by their powerhouse opponents as they lost 0-2, 0-2, 0-2 in the three regus in their Group A preliminary round match.

The Thais won 21-6, 21-13 in regu 1, 21-9, 21-3 in regu 2 and 21-9, 21-5 in the third and final regu to win the match in 69 minutes. India had lost to Japan in their first match on Tuesday.

In the women's match, the Thais were again overwhelmingly superior in the 71-minute Group B preliminary round contest as they beat the Indians 2-0 in all the three regus.

The Thais won 21-7, 21-7 in the first regu, 21-4, 21-14 in the second regu and 21-6, 21-6 in the third and final regu.
Women's hockey: China sink India with last-minute goal
India fought valiantly before conceding a late goal and losing 1-2 to three-time defending champions China in women's hockey at the 17th Asian Games, in Incheon, on Wednesday.
Barring the late blunder, the Indians matched their fancied opponents for the entire 60 minutes of the match to raise hopes of an upset result.
But it was not to be, as world No. 5 China scored a late winner through Yudiao Zhao, much to their relief.
Swimmers continue dry run
There was no end to Indian swimmers' dismal run at the Asian Games as the team finished a lowly seventh in the 4x100m freestyle relay final while none managed to make the final of two individual events.
The Indian quartet of Anshul Kothari, Sajan Prakash, Neil Contractor and Aaron D'Souza clocked a disappointing 3:25.94 to be second from bottom in the eight-team final.
Things were no better in the individual competition with Sandeep Sejwal finishing fifth in the men's 100m breaststroke heats. Sejwal clocked 1:03.09.
In the men's 100m butterfly event, Sajan Prakash ended sixth with a timing of 55.64.