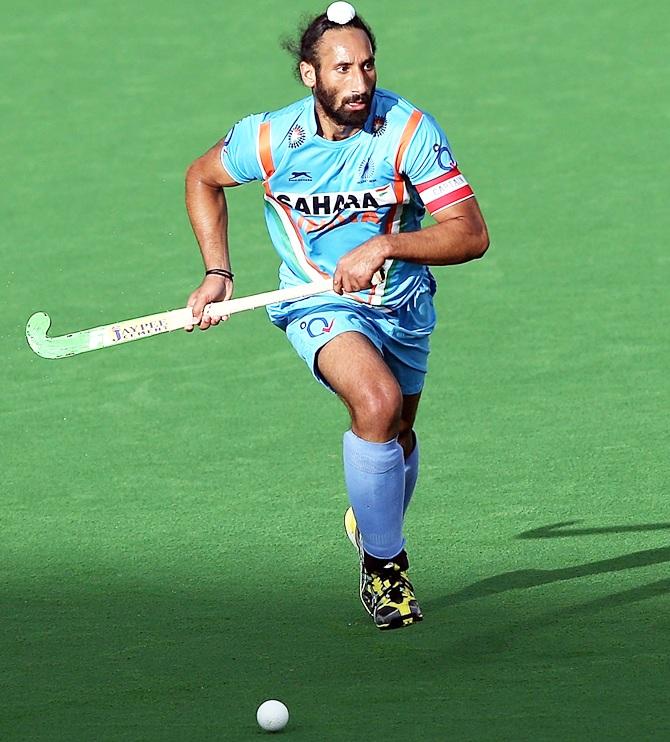 India's Sardar Singh runs with the ball. Photograph: Michael Dodge/Getty Images
His side might have already booked their place in next year's Rio Olympics, but India captain Sardar Singh asserted that they are not mere tourists here and have a lot to play for in the ongoing Hockey World League Semifinals.
There is little at stake for the Indian team in the current tournament, despite their assured spots in the 2016 Olympic Games as well as the World League Finals later in the year.
The ongoing World League Semifinals offers three spots in the Olympic lineup. For several teams it is the last chance to make it to Rio Olympics, while India have already secured their passage by virtue of winning the Asian Games gold medal at Incheon last year.
Three spots are also available for the World League Finals for which India are automatic qualifiers as hosts, allowing the Sardar-led side the luxury of trying out some young players and new strategies under new chief coach Paul van Ass.
"We are not tourists at this tournament, certainly not," says Sardar, as the Indian captain is asked by world media if the Indian team has anything at stake in this tournament.
India are the only team here to have already secured a passage to Rio Games, allowing them to breathe easy in the competition where some countries are showing nerves aplenty.
"We may have already qualified for the Olympics, but we certainly want to perform well going into the World League Finals that India will host later in the year," said Sardar.
"We want to do well here as much at any other team," he added as the team prepares to go into their second pool fixture, against Poland, who gave Pakistan a tough time in their first outing before losing 1-2.
Poland are ranked 17 in the world, eight spots behind India, but Sardar was fully aware that their opponents have the potential to pull off a surprise on the erratic Indian defence that barely survived a scare against France.
Like France, the Polish also have some speedy strikers who can mount brisk counters, as they displayed against Pakistan, who also paid the price for wasting several scoring opportunities until the match-winner came in the fourth quarter.
"You cannot take any rival likely. The world rankings do not matter when you step into the field," said Sardar, hoping the young members of his team would have gained by the experience against France, where newcomer Devindar Walmiki scored an opportunistic goal.
India managed to put it across France 3-2, with the match-winner coming in the dying stages of the match in which they were hampered by the absence of their two drag-flickers VR Raghunath and Rupinder Pal Singh.
Raghunath was one of the three players dropped from the squad due to injuries suffered in the training camp ahead of this tournament. Rupinder, who was to be rested from this event, came in as a replacement for Raghunath, but did not play the opening match due to an injury sustained in the warm-up matches leading upto the tournament.
India's chief coach Van Ass is hopeful that the Indian defence will put up a much-improved show compared to the match against France, who repeatedly managed to cause problems through penetrative bursts.
Trying to impart new strategies to his wards, including some juniors, Van Ass is expected to again use this outing for some more experiments ahead of the tougher encounters against subcontinental hockey rivals Pakistan and reigning World champions Australia.
HI awards Devindar Walmiki Rs 1 lakh for goal on debut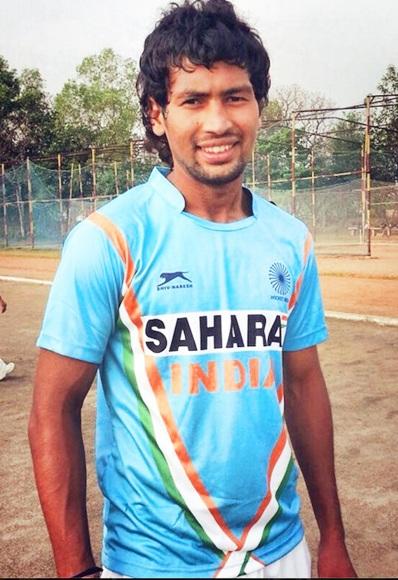 Hockey India announced a cash award of Rs 1 lakh to Devindar Walmiki for scoring a goal on debut intenational match in the ongoing FIH World League Semifinals.
Devinder scored one of the three goals during India's 3-2 win over France in the Asian country's opening match of the ongoing tournament in Belgium on last Saturday.
Congratulating Devinder on his brilliant performance, HI secretary general Mohd Mushtaque Ahmad, said: "Devindar is a disciplined player and has an impressive track record throughout his junior career.
"His consistent performance in Hockey India League, Hockey India National Championship and in training sessions, has helped Devindar him earn a place in the national team for this tournament."