'Stephens to win more Slams - if she wants it'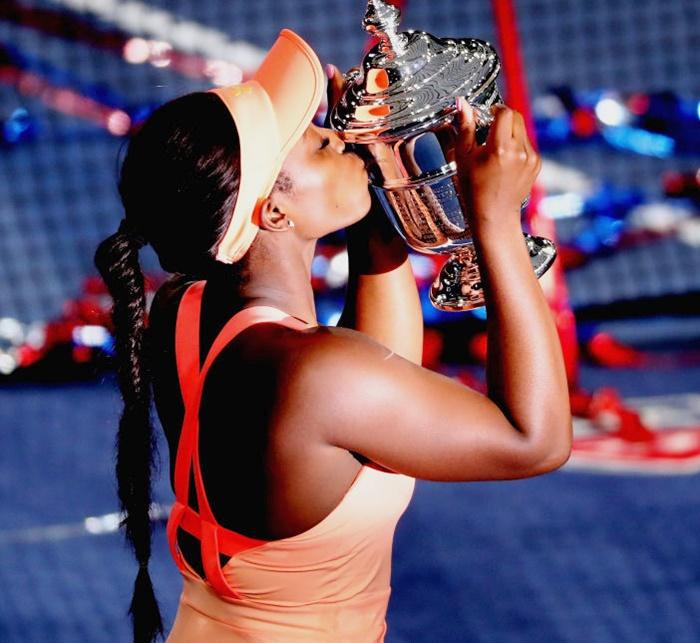 IMAGE: Sloane Stephens of the United States kisses the championship trophy. Photograph: Elsa/Getty Images
Sloane Stephens's US Open win could be the first of many Grand Slam titles for the young American, but there is a question mark on her ambitions, according to former world number one Mats Wilander.
Having battled back from foot surgery in January, the 24-year-old Stephens played almost to perfection in beating compatriot Madison Keys 6-3, 6-0, showing she has what it takes to add to her Flushing Meadows title.
"The game is there, she just hasn't really been there emotionally all the time until this week," Wilander, at the US Open as an analyst for Eurosport told Reuters.
"Maybe her last injury woke her up and made her appreciate how fortunate she is and that she should work really hard."
"She is so talented, so quick and so emotionally calm. She doesn't have any weakness. It's the first of many Grand Slam titles if you look at how she played today."
It remains to be seen, however, if Stephens has the drive to go further. The American said maybe she 'should retire' after her victory in Arthur Ashe Stadium.
"Today, nobody in the world beats Sloane Stephens," said Wilander, who won the last of his seven Grand Slam titles at the 1988 US Open.
"If she cares in every match she plays, like she did today, she's going to be up there in the rankings very quickly.
"But we don't know what her ambitions are. She said it herself, maybe I should retire today because this is the best day, I can't top this. There you go, you're not going to hear Nadal say that."
If she has that ambition, though, Stephens will have the edge over her rivals.
"She's the oldest of the next generation and she's the more mature, that makes the difference," said Wilander.
"When foot speed and calmness are your two strengths, it's easier because hitting winners is a gamble. Some days it works, some days it doesn't.
"Madison Keys will be her main rival but there are a lot of good players. Elina Svitolina, most probably (Jelena) Ostapenko, (Daria) Kasaktina."