Krrish Delhi Smashers staged a great fightback after losing the first two matches to down Hyderabad Hotshots 3-2, in the Indian Badminton League, in Lucknow on Saturday.
-It is only a beginning and team will bounce back: Saina
The Smashers rode on the strong performance by their men's and mixed double teams to register their first victory in the tournament.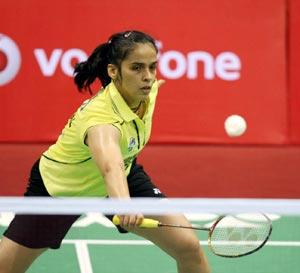 After being locked 2-2, it was their mixed doubles pair of V Diju and Prajakta Sawant who finally took Delhi home after they defeated Hyderabad's V Shem Goh and Pradnya Gadre in the last match of the tie.
Earlier, Sai Praneeth of Smashers suffered a 21-19, 19-21, 7-11 defeat to Thai player S Tanongsak in the first men's singles to allow Hyderabad a 1-0 lead.
The second game was played between ace shuttler Saina Nehwal of Hyderabad and Arundhati Pantawane of Delhi.
Though Arundhati initially troubled Saina, but with her powerful smashes, the London Olympics bronze medallist won the game 21-6.
The World No 4 continued her dominance in the second game and defeated Arundhati 21-8 to give Hyderabad a 2-0 lead.
However, World No 2 Malaysian pair of Boon Heong Tan and Kien Keat Koo kept Delhi's hopes alive when they defeated V Shem Goh and Kona Tarun of Hyderabad 21-14, 21-10 to reduce the lead by 1-2.
The fourth match was played between Taufik Hidayat and Malaysian Darren Liew, but the former World and Olympic champion was off colour and lost 10-21, 7-21 as Delhi bounced back into the contest, making it 2-2.
Delhi's icon player Jwala Gutta was unable to play because of injury.
Image: Saina Nehwal
Photograph: Indian Badminton League