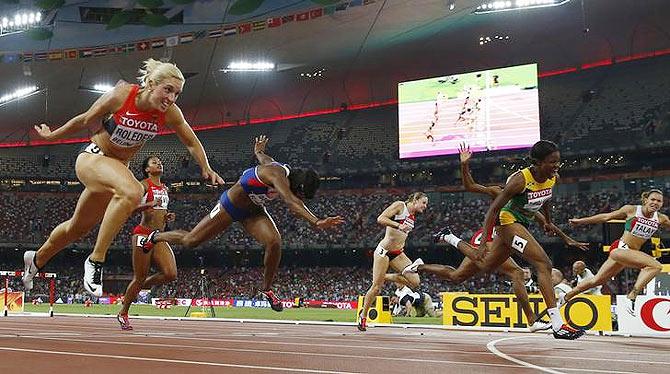 Jamaica's Danielle Williams (2nd from right) crosses the finish line ahead of Germany's Cindy Roleder (left) at the women's 100 metres hurdles final during the 15th IAAF World Championships at the National Stadium in Beijing, on Friday. Photograph: Kai Pfaffenbach/Reuters
Jamaica's Danielle Williams won the world championship 100 metres hurdles gold as her more experienced rivals crumbled under pressure on Friday.
She took the lead after the last flight, winning in a personal best 12.57 seconds ahead of Germany's Cindy Roleder who also clocked a best time of 12.59.
Bronze went to Aline Talay in a Belarus record 12.66.
Danielle, 23, raced in the final alongside her 25-year-old sister Shermaine who finished seventh in 12.95.
It was the first time since the championships began in 1983 that two siblings had competed together in a final.
Two of the leading American hopes, Dawn Harper Nelson and Keni Harrison, were eliminated at the semi-final stage.
Harper Nelson fell and Harrison was disqualified for a false start.
In the final, 2013 world champion Brianna Rollins all but wrote off her chances by knocking down the first hurdle.
The American rallied but could do no better than fourth place in 12.67, passing Britain's Tiffany Porter who led to the eighth flight before folding.
"I was just hoping I finished with a medal, I wasn't sure where I finished, I knew it was close," Danielle Williams told reporters.
"I was just looking up at the screen waiting for the results to come up."
Roleder, 26, regards herself as a heptathlete and was not even ranked in the world's top 20 as a 100 hurdler going into the Beijing championships.
"That rocked," she said.
"I am super happy. I cannot believe what happened.
"After the semi-final I was gobsmacked for a little while but our physio Thomas Ring set me up again and my coach Wolfgang Kuehne also made me strong mentally."
Russian Shubenkov wins 110m hurdles gold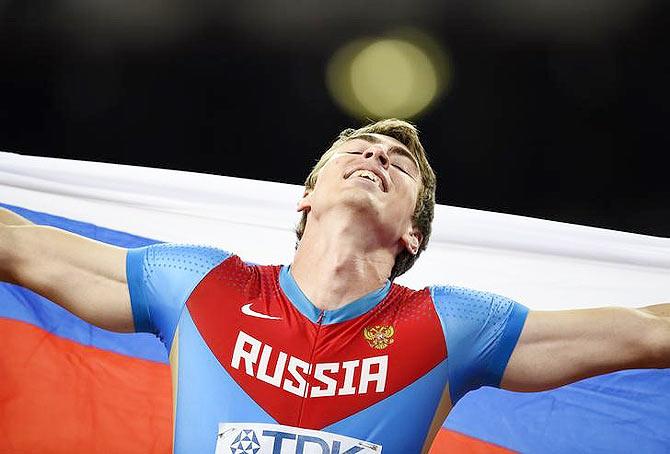 Russia's Sergey Shubenkov celebrates after winning the men's 110 metres hurdles final on Friday. Photograph: Dylan Martinez/Reuters
Sergey Shubenkov ran a Russian record to win 110 metres hurdles gold at the world championships on Friday, storming down the track in 12.98 seconds.
Hansle Parchment of Jamaica was second in 13.03 and Olympic champion and world record holder Aries Merritt claimed bronze in 13.04 seconds.
Olympic champion Aries Merritt claimed an extraordinary bronze medal days before he undergoes a kidney transplant.
Defending champion David Oliver of the United States hit three of his first four hurdles and was never in the race, finishing seventh in 13.33 seconds.
Shubenkov was left dumbfounded after flying over the hurdles to take a clear lead off the final barrier and crossing the line for his first global championship gold in 12.98 seconds.
"I can't describe what I'm feeling," the 24-year-old told reporters after breaking the Russian record.
"I don't remember anything about the race. I heard the starting gun and then I opened my eyes and it was finished.
"I wondered whether it was really happening, whether I might wake up. This is the best day of my life."
American Merritt, who was told he would never run again after being diagnosed with kidney disease in 2013, will receive the new organ from his sister in Arizona next week.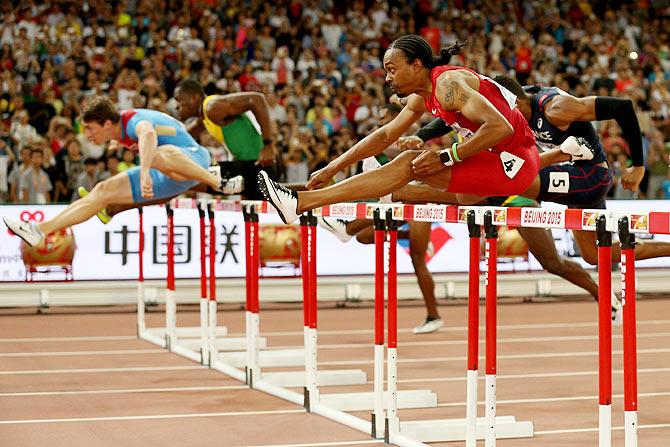 Aries Merritt of the United States competes in the Men's 110 metres hurdles final during day seven of the 15th IAAF World Athletics Championships at Beijing National Stadium on Friday. Photograph: Patrick Smith/Getty Images
The 30-year-old got off to his usual explosive start and had an early lead before his lack of training took its toll and he faded over the final hurdles.
"How is that possible? I don't know," he said.
"I just kept a level head and did what needed to be done and completed my race to the best of my ability.
"But given the circumstances, I think it was my best race of the year and I came away with a medal, just as I had hoped to.
"It almost means more to me than my Olympic gold, the state I'm in, the training I've done, it's been very difficult, very hard. The struggle is real."
Parchment, bronze medallist behind Merritt at the London Olympics, was happy with silver.
"The conditions, the temperature, everything was working for me," said thee 25-year-old.
"I managed to run smooth and kept my composure over the hurdles despite not feeling much strength this time."
Schippers first European to win 200m gold in 12 years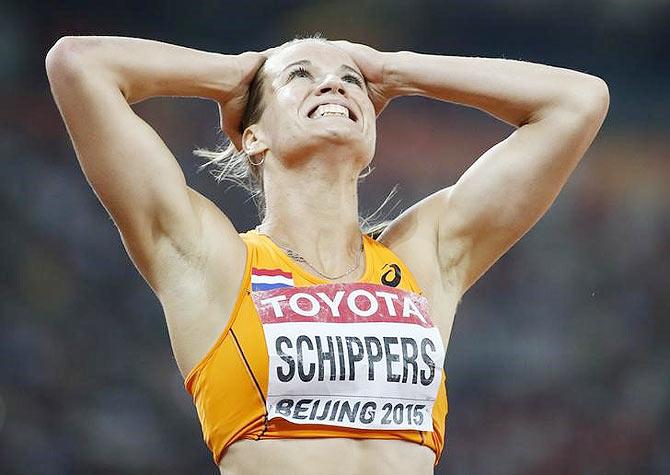 The Netherlands' Dafne Schippers reacts after winning the women's 200m event on Friday. Photograph: Lucy Nicholson/Reuters
Dutch sensation Dafne Schippers clocked the fourth fastest run of all time to pip Jamaica's Elaine Thompson by three-hundredths of a second to win 200 metres gold at the world championships on Friday.
The former heptathlete, who claimed silver in the 100 behind Shelly-Ann Fraser-Pryce on Monday, surged through the line in 21.63 seconds, the quickest time for 17 years in the half-lap sprint.
Only Americans Florence Griffith-Joyner, the world record holder, and Marion Jones, who was later banned for doping, have run faster.
Thompson was second in a personal best 21.66 while bronze went to her compatriot, twice Olympic champion Veronica Campbell-Brown, in 21.97.
Schippers, taking part in her first major global championships as a sprinter, made a good start but had plenty to do to catch Thompson when they came off the bend.
The tall 23-year-old got into her powerful stride, however, and ate up the ground to overhaul her rival as she dipped for the line.
Schippers, who raised a finger in the air after crossing the line, is the first European to win the title since Russia's Anastasiya Kapachinskaya in Paris in 2003, breaking 12 years of American and Jamaican dominance in the event.
American Candyce McGrone was fourth in a personal best 22.01 with teenager Dina Asher-Smith fifth in a British record 22.07, clocking her best for the third time in three days.
Fraser-Pryce, the 2013 champion, decided against doubling up in Beijing while the schedule prevented Olympic champion Allyson Felix running the 200 and 400 and she chose the longer race, winning gold on Thursday.
What was considered a weakened field produced one of the most thrilling and fastest races of recent world championships.
It contained six of the seven fastest times of 2015, including the top four.
American Bartoletta wins long jump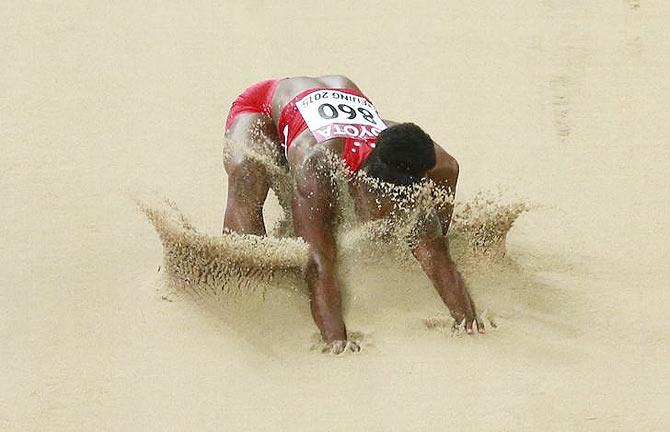 The USA's Tianna Bartoletta competes in the women's long jump final on Friday. Photograph: Kim Kyung-Hoon/Reuters
American champion Tianna Bartoletta became long world champion once again on Friday, snatching the gold medal with a leap of 7.14 metres in the final round.
Britain's Shara Proctor had led the competition after breaking her own national record with a 7.07m jump in the third round.
She tried to respond with the last leap of the competition but the 26-year-old Anguilla-born athlete could only register a foul and had to settle for silver.
The bronze medal was won by Ivana Spanovic of Serbia who took an early lead and set a national record 7.01m with her opening jump.
Bartoletta, 29, last won the world title 10 years ago in Helsinki, competing under her maiden name of Madison.
She has spent much of the past decade concentrating on her sprinting, finishing fourth in the 100m final at the 2012 London Olympics.
"This was a totally different experience from 2005," Bartoletta, who celebrates her 30th birthday on Sunday, told reporters.
"I'm just really pleased I was able to execute in the same way and come out with the win."
Proctor did not seem too disappointed at having had the gold medal snatched from her grasp.
"I'm so happy. It finally came together -- two jumps over seven metres. I'm still in awe. I'm just happy right now.
"There's more to come, for sure."
That was not the case with Spanovic, who produced a very consistent series, jumping 6.98 in the penultimate round before clearing 7.01 with her final jump.
"Sincerely, I am upset because of the bronze medal. With my coach, we were training for a jump on the level of 7.10. We focused on Beijing and tried to give it everything.
"To jump 7.01 twice in the competition, that is a very positive factor for my career. I just expected more."