Total of 17 teams could lead to I-League-ISL merger, says AIFF secy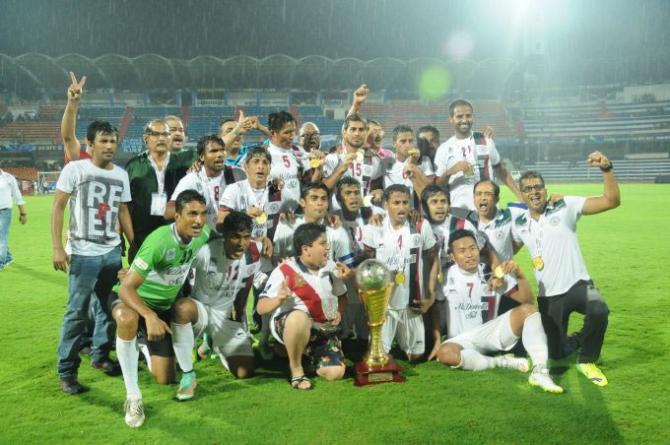 IMAGE: Mohun Bagan players celebrate after winning the I-League on May 31, 2015. Photograph: AIFF media
The All India Football Federation (AIFF) secretary Kushal Das admitted that the parent body is seriously mulling over the option of a merger between the I-League and IMG-R promoted Indian Super League as it would mean a national league with 17 teams.
"It is true that teams have come down in I-League. But two new teams have also come up. One team (Bharat FC) which is no longer in League didn't have any vision. But the issue of Pune FC, not playing is a matter of concern. Maybe, they have not been able to develop a fan base in all these years, in spite of handling it professionally. And in case of Royal Wahingdoh, the reasons are financial," AIFF general secretary Kushal Das said at the launch of the Hero I-League 2015-16 in Kolkata on Wednesday.
"But if you see the overall picture, two years back there were 12 teams playing the I league and now by combining two leagues, you have 17 teams playing, which helps us in thinking about merger much more," Das said.
Last year, the I-League was played among 11 teams and out of those, three clubs -- Pune FC, Bharat FC and Royal Wahingdoh -- have pulled out and while one (Dempo) was relegated.
With new entrants DSK-Shivajians and Aizawl FC the I-League 2015-16 would be competed among just nine clubs.
The first match of the Hero I league season will see defending champions Mohun Bagan take on Aizawl FC in Kolkata on January 9. Arch-rivals East Bengal and Mohun Bagan will lock horns on January 23.
AIFF hoped that with new promotional plans this year, I-League would turn out to be more popular than last year.
"To promote I-League, we the AIFF and the clubs have created a budget this year. Last few years there were no such promotions. But still in last year, we saw 50 per cent increase in the attendance in venues and the television viewership also went up by 13 per cent. So we think that the interest level in I-league is also increasing," I-League CEO Sunando Dhar said.
Dhar hoped that with two new teams coming up who have their own promotional plans, I-League too would be popular like ISL.
"Yes, there are lot of differences in promotional budgets of I-League and ISL. But I-league has its own place, it promotes Indian football, lot of players have come up through it," Dhar said.