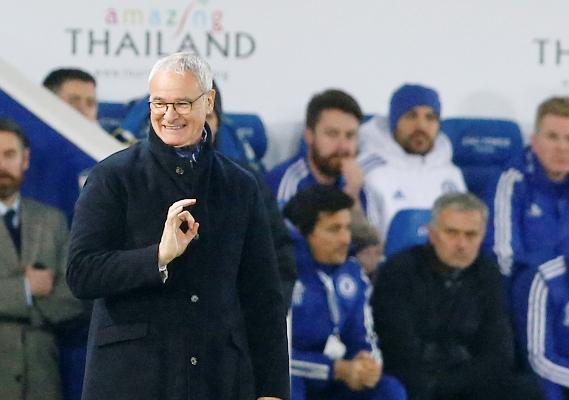 IMAGE: Leicester City manager Claudio Rainieri reacts during the Premier League match against Chelsea. Photograph: Michael Regan/Getty Images
Leicester City coach Claudio Ranieri said on Tuesday that he believed at Christmas his team would win the Premier League, even as he continued to tell the media his only goal was avoiding relegation.
"Now I can say it, I always knew we'd win," Ranieri told Italian daily Il Fatto Quotidiano the day after Leicester's triumph.
He said he had always denied any championship ambitions until almost the end of the season because "that's the way I am made, I have always preferred doing things rather than talking about them".
Asked to pinpoint when he really became convinced Leicester could win, he said: "It was at Christmas. Relegation had been avoided and we gathered together to talk in the changing rooms and we said to each other, 'Let's go for it, we've got nothing to lose'."
Ranieri played down his own role in the achievement, saying that teamwork was key to the club's success and his players had no shortage of ability.
"I don't think it's possible to win without the essential qualities, and the team that I led had all the essential qualities."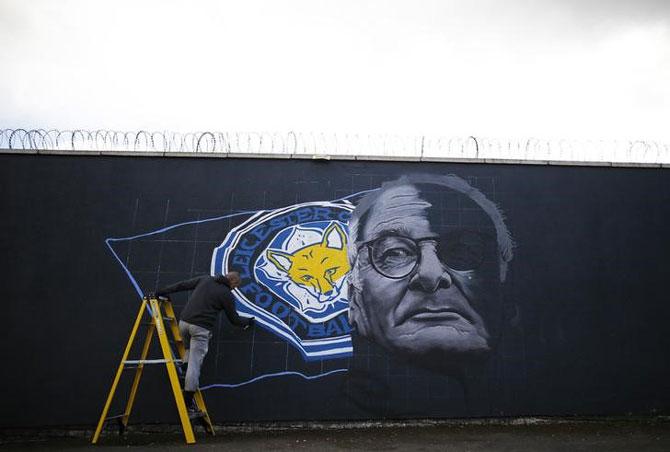 IMAGE: Artist Richard Wilson spray paints a mural of Leicester City manager Claudio Ranieri in Leicester, Britain, on Friday. Photograph: Darren Staples/Reuters
While Ranieri was keen to credit his team, the Italian coach was lauded in his own country.
"King Claudio!" was the front page headline in La Gazzetta dello Sport, Italy's main sports daily, above a mock up picture of Ranieri which made him look like a Roman emperor.
The country's largest circulation newspapers Corriere della Sera and la Repubblica also carried front page stories with the same "King of England" headline.
Prime Minister Matteo Renzi tweeted: "The greatest achievement in the history of English soccer was led by an Italian. Fantastic Mr Ranieri."
In Testaccio, the working class district of Rome where Ranieri grew up, the local AS Roma supporters' club sported a banner outside reading "Champions of England, Great Claudio."
Photographs inside showed Ranieri when he was a player for Roma and standing next to his star player Francesco Totti when he managed the club.
"He is a great man, a serious man who came up from nothing," said pensioner Annamaria Caroni, who said she could remember Ranieri's late father, who had been the local butcher.
Ranieri was in Rome on Monday to visit his 96-year-old mother, before flying back to England in time to watch Tottenham Hotspur's match against Chelsea on television.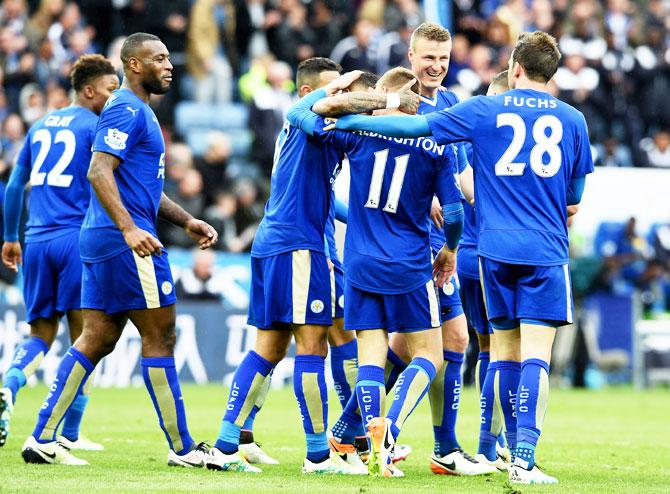 IMAGE: Leicester City players celebrate a goal. Photograph: Ross Kinnaird/Getty Image.
Tottenham's failure to win handed the Premier League title to Leicester with two games to spare.
The surprise success was lauded throughout the world, with FIFA president Gianni Infantino saying: "It's one of these beautiful football stories that only football can write, nobody would have believed possible at the beginning of the season. This is the magic of football."
Real Madrid's former Spurs player Gareth Bale, whose side are battling with Lionel Messi's Barcelona and Atletico Madrid for the Spanish title, tweeted: "Gutted for @SpursOfficial but congrats to @LCFC, amazing season!! Love Football."
However, a tweet attributed to Messi saying "This is why we love football," came from an unofficial account and was not the work of the Barcelona forward.