India captain Sunil Chhetri tells Manu Shankar that the recently-launched Indian Super League, having been well-received by the country's football fans, needs to sustain its popularity.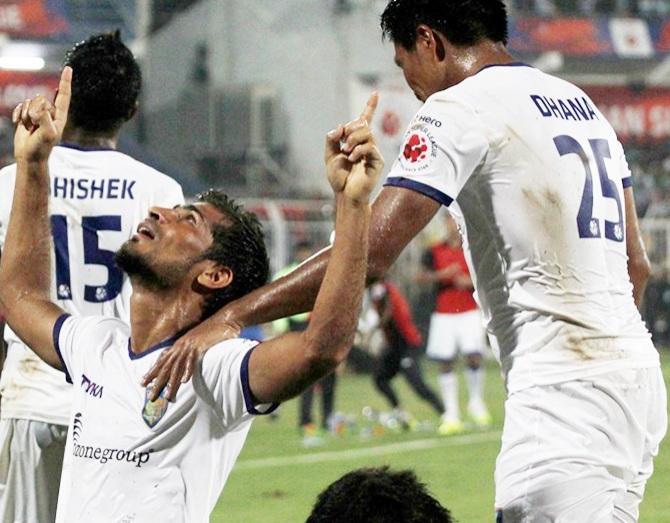 Balwant Singh, centre, of Chennaiyin FC celebrates after scoring. Photograph: Courtesy: ISL/Facebook
Impressed with the standard of football in the ongoing Indian Super League, India captain Sunil Chhetri feels the newly-launched tournament is an ideal platform for youngsters to perform and open the gates for selection to the national team.
"Good performance will always be noticed and coach will already have noted down a few good performers who have the potential to make it to the Indian team," said Chhetri on Wednesday, on the sidelines of a function in Delhi.
"Some of the young players have done so well in the ISL that I am impressed with their performance," he added.
Chhetri was of the view that the ISL has provided domestic players a chance to rub shoulders with some greats of the game and showcase their talent.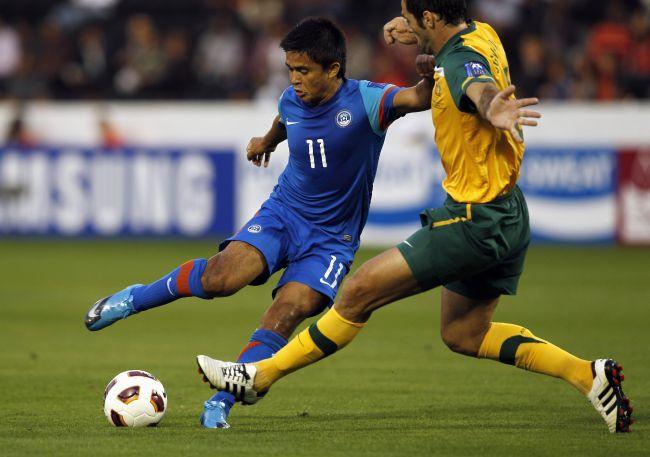 India's Sunil Chhetri (L) is challenged by Australia's Sasa Ognenovsk

. Photograph:

Fahad Shadeed

/Reuters
However, he emphasized on the fact that India needs to cash-in on the momentum and develop the game in the country.
"The ISL has been received very well by football fans. The tournament is being been shown on many channels, including in High Definition, and you can access to it in other formats. It has been marketed well. I hope the tournament sustains its popularity in future editions and keeps growing."
The national team had mixed fortunes under Dutch coach Wim Koevermans, who quit last month citing 'private reasons'. But ask Chhetri about India's not-too-good showing in the recent past and he will tell you that it would be unfair to blame Koevermans for it.
"Our performance was a mixed result under Koevermans. We began with a bang, with a Nehru Cup win, but finishing runners-up at the SAFF Championships last year (after losing to Afghanistan in final) was a debacle.
"But we should not blame our disappointments on Koevermans. We had a well-settled team before Koevermans came. It included some top names in Indian football. So, after they left, we had some new faces and we had to adjust."