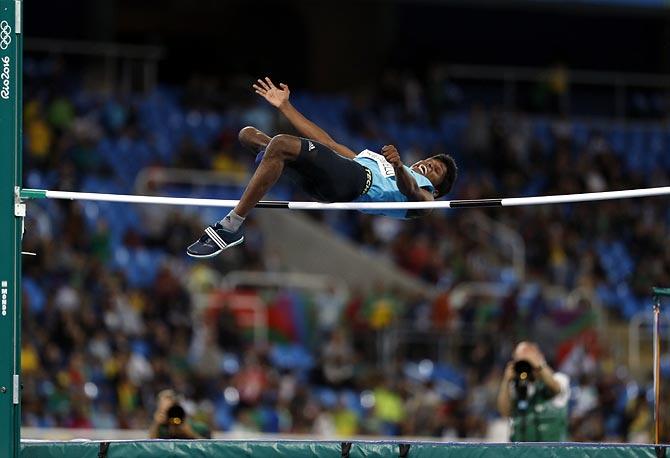 IMAGE: Satyanarayana Shimoga coached Mariyappan Thangavelu (in picture), who won the gold medal at the Rio Paralympic Games in 2016. Photograph: Ricardo Moraes/Reuters
Para-sports coach Satyanarayana Shimoga on Saturday claimed that he has been wrongly denied the Dronacharya Award by the government as he has not been chargesheeted in the defamation case, pending at a Delhi court.

Satyanarayana, who has coached Rio Paralympics gold medallist Mariyappan Thangavelu, has been dropped from the list of this year's Dronacharya awardees due to a criminal case pending against him before the Chief Metropolitan Magistrate at Saket in Delhi.

It has been learnt that several people had raised objections when Satyanarayana's name was recommended for the Dronacharya Award.

"I have been wrongly denied an opportunity to receive the Dronacharya Award. Some people jealous of my achievements have made false allegations against my nomination for Dronacharya Award," Satyanarayana told PTI from Bangalore on phone.

"I am shocked to hear these media reports that my name has been struck down on the basis of this defamation case.

"This case relates to a private complaint by someone who wanted to exact revenge for ousting him from Paralympic Committee of India. Moreover, the case has not reached chargesheeting/chargeframing stage and only summons were served. If I am going to be denied the Dronacharya Award on this basis, I feel it is not correct," he added.

The case in question is related to a complaint filed by the former PCI chief Rajesh Tomar, who was ousted by the national para-sports body in 2015 on allegations of mismanagement and misappropriation of funds.

For many years, the PCI has been embroiled in factional fights and allegations
of misgovernance and misappropriation of funds which has led to its derecognition and disaffiliation by the world body, the International Paralympic Committee, and the Sports Ministry on two occasions in the past.
Asked if he will legal recourse on this issue, Satyanarayana said: "I am not the person to go to a court to get an award. I will respect the decision of the Sports Ministry. But I want to tell the world that I have done
nothing wrong and I have been denied the award despite my achievements."
Satyanarayana, who has earlier served as PCI Secretary, said that he had written to Sports Minister Vijay Goel and Dronacharya award committee chairman Pullela Gopichand to allow him to present his side of the story but he did not get a reply.
"I secured highest number of points on my achievements for the Dronacharya Award as a Para-athletics coach," he said in the letter to Goel, sent on August 17.
"I would like to request your goodself to kindly provide me an opportunity for self appraisal with supporting documents on the complaints against my nomination for Dronacharya Award," he added.
In the letter sent to Gopichand, Satyanarayana said that the complaint filed by Tomar at the Saket court was of private nature. The complaint was filed in order to take revenge from the then office bearers of the PCI and his name has been dragged without any rhyme or reason.
He said Tomar only wanted to harass the office bearers of the then PCI who had passed a resolution to suspend/expel him in a meeting in Bangalore. He said he had not supported Tomar and that why he was made a party.
"The court had issued summons only under Sections 500 and 501 of the Indian Penal Code. No notice/charge under Sections 500 and 501 of the IPC has been issued/framed against me or against other persons made as a party to the complaint.
"In such scenario, my name be considered for Dronacharya Award
(Life Time Achievement
) for the year 2017," he had said in the letter written to Gopichand on August 17.