'Obviously Rafa is in great position to finish World No. 1'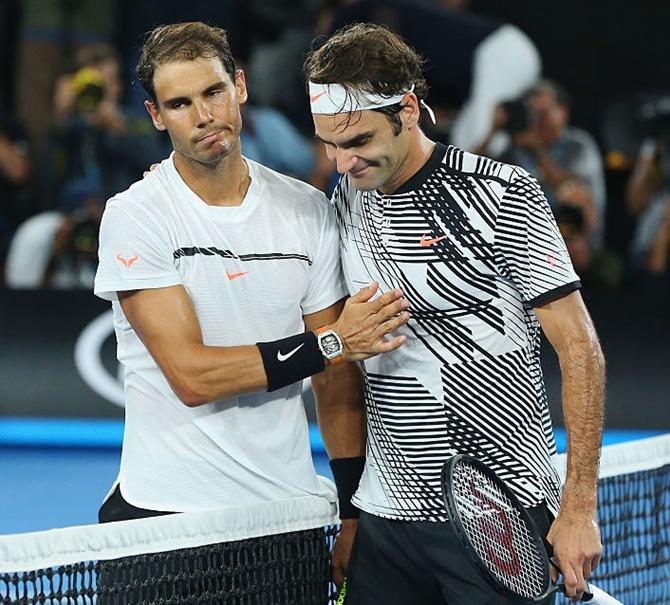 IMAGE: Roger Federer has made a humble comment acknowledging Rafael Nadal's form at the French Open. Photograph: Michael Dodge/Getty Images
Roger Federer has said it.
His words adding more weight to the legend of Rafael Nadal, who decimated the opposition to claim his 10th French Open crown at Roland Garros on Sunday.
Federer applauded Nadal's form in Paris, stating: "I could not have defeated Nadal on Sunday, not in this condition," Federer said at his pre-event press conference in Stuttgart.
"I already said he would 'destroy' the clay season."
Federer has defeated Nadal in their three meetings this season, but decided to skip the clay-court season.
The Swiss has never won against the Spaniard in five matches at the French Open.
Nadal dominated the clay events, and played some mind-blowing tennis to defeat Stan Wawrinka in straight sets in the French Open final.
The former world number one is eager to get back to competition in 2017 after a 10-week layoff.
During Federer's absence, Rafa Nadal won four clay tournaments, culminating in Sunday's French Open victory, and Federer said the Spaniard could finish the year on top of the world rankings.
"Obviously Rafa is in great position to finish World No. 1. For him it's going to be all about staying injury free," he added.
"For me it's about getting back to winning ways, where I left off in Miami."