Profile of the Golden State Warriors, who beat the Cleveland Cavaliers on Monday to win their second NBA championship in three seasons.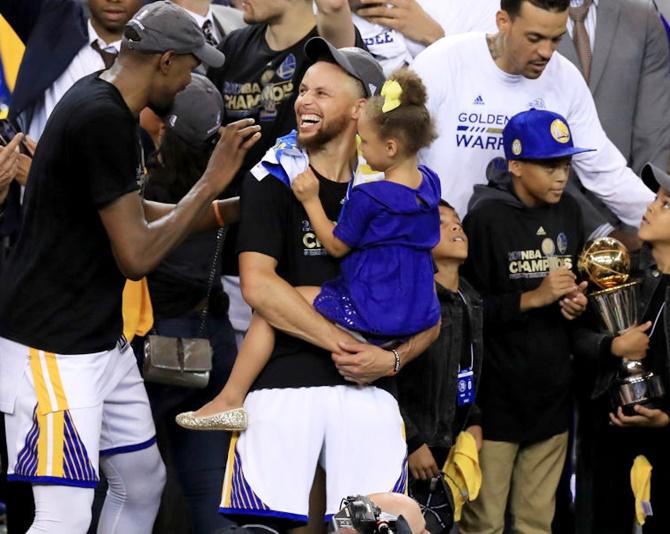 IMAGE: Kevin Durant #35 and Stephen Curry #30 of the Golden State Warriors celebrate after defeating the Cleveland Cavaliers. Photograph: Ronald Martinez/Getty Images
* NBA titles: Five (2017, 2015, 1975, 1956, 1947)
* The franchise was founded in 1946 as the Philadelphia Warriors, a charter member of the Basketball Association of America.
* Won a championship in the inaugural season of the BAA, a league that would eventually become the National Basketball Association after its third season.
* Captured their second championship in Philadelphia in the 1955-56 season during an era that included future Basketball Hall of Famers Paul Arizin, Tom Gola and Neil Johnston.
* In 1959, the Warriors signed draft pick Wilt Chamberlain. Known as "Wilt the Stilt," the athletic, 7-foot-1 Chamberlain led the league in scoring his first seven seasons, shattering NBA scoring records and changing the NBA style of play forever.
* Chamberlain, who went on to earn a spot in the Hall of Fame, scored a record 100 points for Philadelphia during a 1962 game against the New York Knicks.
* Relocated to San Francisco in 1962 and were renamed as the San Francisco Warriors.
* In 1971, the Warriors moved across San Francisco Bay to Oakland, and changed their geographic name to Golden State to symbolize the entire state of California.
* Won their first NBA title on the West Coast in 1975 when they pulled off a major upset by sweeping the heavily favored Washington Bullets in four games.
* Warriors finished the 2015-16 regular season with a 73-19 record, eclipsing the previous mark (72-10) set by Michael Jordan's Chicago Bulls during the 1995-96 season.
* Starting point guard Stephen Curry emerged as one of the game's most gifted shooters of all-time and is the NBA's two-time reigning Most Valuable Player.
* Head coach: Steve Kerr. A five-time NBA champion as a player, Kerr in 2015 became the first rookie coach to win an NBA title since the Los Angeles Lakers' Pat Riley in 1982.
* In 2017 the Warriors set a record by winning their first 15 games of the playoffs, one win short of an unprecedented perfect postseason run.
* 2016-17 regular season record: 67-15, first overall
* Path to Finals: Won Pacific Division; Beat Portland 4-0 in Western Conference quarter-finals; beat Utah 4-0 in conference semi-finals; beat San Antonio 4-0 in conference final; beat Cleveland 4-1 in NBA Finals.