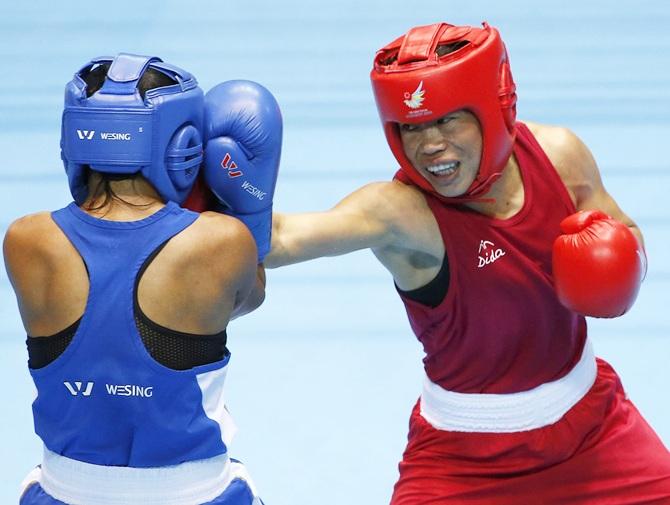 Indian star boxer and five-time world champion MC Mary Kom on Friday said that she is working really hard for the upcoming South Asian Women's Boxing Championship in Vietnam and is all set for the challenge ahead.
Mary was back in her preferred 48kg category as she overcame the challenge from younger competitors to make it to the Indian team for the marquee continental event, which is to be held from November 2 to November 11 in the Ho Chi Minh City.
After undergoing three days of gruelling trials, the veteran duo Mary Kom and L Sarita Devi (64kg) made the cut, despite trying their luck in different weight categories.
Mary, who had climbed up a division to 51 kg back in 2010, is all set to make her sixth Asian Championships appearance.
Talking about her preparation, Mary told ANI, "I am ready for the Asian Championship and working very hard for this. My weight category has changed so I am trying to make myself comfortable."
"I will see how this competition will go for me and also I have to see weight category for 2020 Olympics because this weight category is not in Olympics," she added.
Speaking about Pakistan's participation in the tournament, Mary insisted that sports bring peace, adding that in ring we fight to win, not as an any enemy.
The Rajya Sabha MP fought six bouts during the trials and won all despite facing younger rivals in the likes of World Championships silver-medallist Sarjubala Devi among others.
Dominant India maul Bangladesh 7-0 at Asia Cup Hockey
Favourites India produced yet another clinical performance to maul minnows Bangladesh 7-0, registering their second consecutive win at the men's Asia Cup hockey tournament, in Dhaka on Friday.
India beat Japan 5-1 in the opening encounter.
Ranked 6th in the world, Indians were no match for their less-fancied rivals as they controlled the proceedings from start to finish en route their emphatic win.
India scored five goals in the first two quarters while another two after the change of ends.
Gurjant Singh (7th minute), Akashdeep Singh (10th), Lalit Upadhyay (13th), Amit Rohidas (20th), Harmanpreet Singh (28th, 47th) and Ramandeep Singh (46th) were the goal scorers for India in the Pool A encounter.
The Indians lead Pool A with six points from two wins and will next play arch-rivals Pakistan in their last pool encounter on Sunday.
Meanwhile in the other match of Pool A, Japan held Pakistan to a 2-2 draw.
Indian paddler Selena Selvakumar wins gold in Egypt
India's young paddler Selena Selvakumar put up an impressive show in the Junior Girls' Team event to annex the 2017 Egypt Junior and Cadet Table-Tennis Open title in Sharm El-Sheikh, Egypt.
The 17-year-old Chennai girl teamed up with local duo Riman Hesham and Waad Ibrahim to upset the top seeded Egypt A team 3-2.
She beat Sarah Abousetta 3-1 (11-8, 13-11, 11-13, 11-7) in the opening encounter and Marwa Alhodaby 3-1 (12-10, 4-11, 11-8, 11-9) in the fourth match to set up the victory.
Her wins were particularly impressive as Egypt's Waad Ibrahim and Riman Hesham had lost to the highly rated Marwa Alhodaby and Mariam Alhodaby to hand over the initiative to their opponents.
Selena, however, didn't lose her cool and won the first game 12-10 against Marwa. That was enough to shift the momentum and she rode on it for a comfortable win.
Waad Ibrahim post a victory, beating Sarah Abousetta 3-1 (3-11, 11-9, 11-3, 11-6).
Selena was equally impressive in the semifinals against the Egypt-Tunisia team. She overcame Egypt's Eman Taha 3-1 (11-8, 11-3, 6-11, 11-7) in the second match and Tunisia's Abir Haj Salah 3-1 (11-5, 12-14, 11-9, 11-6) in what proved to be the decider.
US men's team manager Arena resigns after failure to qualify for World Cup
Bruce Arena resigned as manager of the US men's national team on Friday after failing to qualify the squad for the World Cup finals in Russia next year.
The soccer world was left stunned on Tuesday when the United States, needing an away win or draw at bottom of the group Trinidad & Tobago to clinch one of the CONCACAF region's three automatic berths, suffered a humiliating 2-1 defeat.
The loss, coupled by wins from Panama and Honduras, meant that the United States have failed to reach the World Cup for the first time since 1986.
"It is the greatest privilege for any coach to manage their country's national team, and as I leave that role today, I am honored and grateful to have had that opportunity twice in my career," Arena said in a statement released by the US Soccer Federation.
"This certainly is a major setback for the senior men's national team program, and questions rightly should be asked about how we can improve.
"No doubt this process already has started and will continue so that U.S. Soccer can progress."
IMAGE: India's M C Mary Kom(red) throws a punch
Photograph: Kim Kyung-Hoon/Reuters