German rookie Nico Hulkenberg stunned Formula One's title contenders by seizing pole position for Williams by a massive margin at the Brazilian Grand Prix on Saturday.
Title-chasing compatriot Sebastian Vettel will start second on Sunday for championship leaders Red Bull with Australian team-mate and rival Mark Webber third next to McLaren's Lewis Hamilton.
Ferrari's overall leader Fernando Alonso, who can become the sport's youngest triple world champion on Sunday, qualified fifth.
The Spaniard is 11 points ahead of Webber with two races remaining, 21 clear of Hamilton with Vettel a further four behind. McLaren's reigning world champion Jenson Button, who is 42 points adrift and must win on Sunday to have any chance of staying in the title hunt to the final race in Abu Dhabi, qualified a disappointing 11th.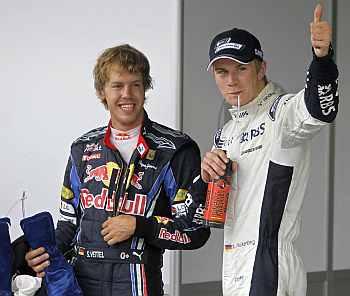 Hulkenberg's astonishing pole, his time more than a second quicker than Vettel on a drying track, was former champions Williams' first since May 2005 and first of the 23-year-old's career.
RIGHT DECISION
The Cosworth-powered team last won a race in 2004 -- with Colombian Juan Pablo Montoya at the same Interlagos circuit. Germany's Nick Heidfeld, at the Nuerburgring, was their last driver on pole.
"It's amazing, I still can't believe it," said Hulkenberg, whose future at Williams is still unclear with the team making clear that commercial considerations will be a factor in their choice of drivers for 2011.
"To go on slicks was obviously the right decision," added the youngster, so unused to being in the limelight that he had to be guided through the post-qualifying press conference routine.
"Obviously I know these guys are fighting for the championship so I don't want to cause any trouble, but I also have to look for my own performance. We are also battling with Force India for sixth place in the constructors' (standings).
"I'm sure we can manage it and I hope I can bring home some good points tomorrow," added the German, who ended a run of eight poles in a row at Interlagos by native Spanish or Portuguese speakers.
Vettel, who has taken nine poles this season, was as surprised as anyone to be beaten by a driver who has scored just 18 points this season and not qualified higher than fifth.
"At first I thought I had missed pole by a tenth (of a second)," he said.
"Then I saw there was another digit. Nico was better than all of us today," he added.
Webber said it had been a very challenging session: "It was really, really tricky to get the clean laps in and I did my absolute best," he said.
"I am in a good position to start the race and it's a long one...congratulations to Nico, he made all of us look pretty average today," he added.