'I have been World and Asian champion but not in the Asian Games. I am working very hard to achieve it.'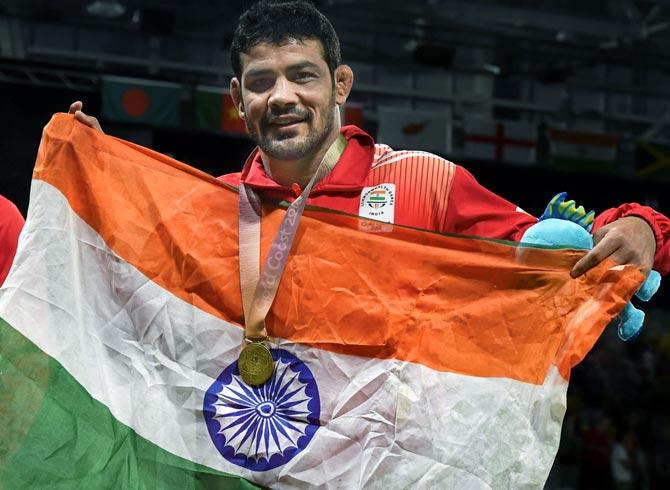 Eager to fetch an Asian Games gold on his comeback to competitive wrestling after a long hiatus, star freestyle grappler Sushil Kumar will head to Georgia for a ten-day tune-up ahead of the continental showpiece.

He will return to Delhi before leaving for Indonesia which is hosting the Games.
"I have returned to wrestling after four years at the Commonwealth Games (where he won the gold in the 74kg). I am in form now. I will be going to Georgia for ten days on the recommendation of the federation. Preparation has been going on very well," said the double Olympic-medallist, in Mumbai, on Wednesday.

"I have been World and Asian champion but not in the Asian Games. 'Jabarbast tapasya mein laga hua hoon' (I am working very hard to achieve it)," remarked the ace grappler from Delhi who had bagged a bronze medal in the 2006 Doha Asian Games.

The 35-year-old former World 66kg champion will contest in the 74 kg class at the Asian Games, after missing the last two continental Games at Guangzhou and Incheon.

In the Beijing Olympics in 2008, Sushil won the bronze medal in the 66kg weight category, only the second Indian to do so in 56 years.

Refuting reports to the contrary Sushil said his training schedule in Georgia is known to all.

"My training schedule is known to everyone, including what type of training I do. One day it's weight training and another day it's full of fights (bouts)," said Sushil.

"Sparring partners of different types are available (in Georgia). Competition is also tight as wrestlers from countries like Azerbaijan and Turkey come over and train," he elaborated.

He conceded that returning to competitions is not an easy task in a sport like wrestling.

"It's a very difficult task in something like wrestling in which you need power and have to know the right time to attack. (But) I was very positive in these four years," he added.

He is not ready to talk about his chances or opponents in Jakarata where the Games begin on August 18.

"I always think my competitor is neither big nor small, neither junior nor senior. Whoever is opposite me must always be good enough. It will not work out if we keep in mind who is a tough opponent. At the back of the mind we will have an idea," he elaborated.

Rio Olympics 58kg freestyle bronze medal winner Sakshi Malik, who is to take part in the women's 62 kg freestyle competition in the Asiad, was also non-committal about her chances.

"I will strive to do my best. A tough fight is expected from (wrestlers of) Japan and China," said Haryana's Sakshi who has not won a medal to date in the Asian Games.

Silver medal winner in the Asian Games four years ago, Bajrang Punia, was upbeat about his chances after having won two international titles in the run-up to the Jakarta Games in the 65kg freestyle class at Georgia and Turkey last month.

"I will strive my best. My preparation has been good. I have won gold in both the tournaments I took part in. I will strive for a gold. I won silver in 2014. I have returned to India after a training stint in Georgia and Turkey," he said.

"All opponents (at the Asian Games) are strong. We don't take anyone lightly," added the 24-year-old Haryana grappler who won the Asian Championship title last year in Delhi and followed it up with a golden finish at the April Commonwealth Games in Gold Coast, Australia.