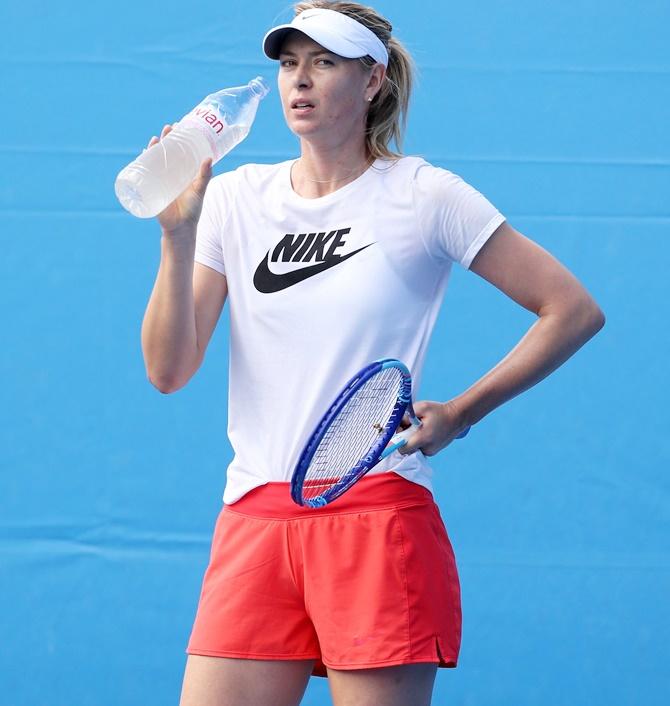 IMAGE: Russia's Maria Sharapova has a drink during a practice session. Photograph: Michael Dodge/Getty Images.
Five-time Grand Slam champion Maria Sharapova's failed drug test at this year's Australian Open provoked a flurry of reaction on social media and beyond on Monday.
- 'Don't want to end my career this way...hope I'll be given a chance'
- Sharapova faces suspension after failing drug test
While most expressed shock and a degree of sympathy for the Russian former world No 1, others were less charitable, including three-times Grand Slam champion Jennifer Capriati.
FORMER WORLD NO 1 JENNIFER CAPRIATI on TWITTER
"I'm extremely angry and disappointed. I had to lose my career and never opted to cheat no matter what. I had to throw in the towel and suffer.
"I didn't have the high priced team of drs that found a way for me to cheat and get around the system and wait for science to catch up. The responses are exactly what i am talking about. Everything based on illusion and lie driven by the media for over 20 years. Beyond unfair."
AMERICAN GREAT MARTINA NAVRATILOVA ON TWITTER
"Hold your horses everyone - about Maria - I don't have all the facts, I hope it's an honest mistake, stuff was legal as far as I know till 2015."
FORMER PLAYER JAMES BLAKE on TWITTER
"Wow. Classy of @MariaSharapova to hold a press conference for this and admit making a mistake. Definitely agree that have to be aware though."
BRITISH PLAYER ALEX WARD on TWITTER
"Whole tennis world currently googling meldonium"
CURRENT AMERICAN PLAYER RYAN HARRISON on TWITTER
"Maria handled that so well. In my opinion, honest mistake from a great champion"
TENNIS COACH JUDY MURRAY on TWITTER
"If I was going 2 announce my retirement, it wouldn't b in a downtown Los Angeles hotel with a fairly ugly carpet. Sharapova. Standards."
FORMER TOP 10 PLAYER AND COACH BRAD GILBERT
"Still stunned that nobody on Shazza team checked new list from WADA, players are responsible but this is big time oversight on team as well."
AUSTRALIAN PLAYER MATT EBDEN
"Doesn't look that innocent for Sharapova or whoever else took it, this Meldonium stuff but who knows?"
FORMER PLAYER ANDREW CASTLE on TWITTER
"What's Meldonium?" "Hold on. This is weird. Wada issue their list of banned substances and you don't look? Nor do management?"
"After the betting revelations this #Sharapova news is a hammer blow to the sport."
BRITISH OLYMPIC HEPTATHLON BRONZE MEDALLIST KELLY SOTHERTON
"I'm pretty sure if this was a track and field athlete they'd be getting a much rawer deal than Sharapova. However it is what it is. #Sharapova"
TELEVISION PRESENTER PIERS MORGAN on TWITTER
"That might explain all the grunting. #sharapova"