'I don't think we have ever had so many top players either in singles or doubles,' says badminton legend Prakash Padukone.
Harish Kotian/Rediff.com listens in.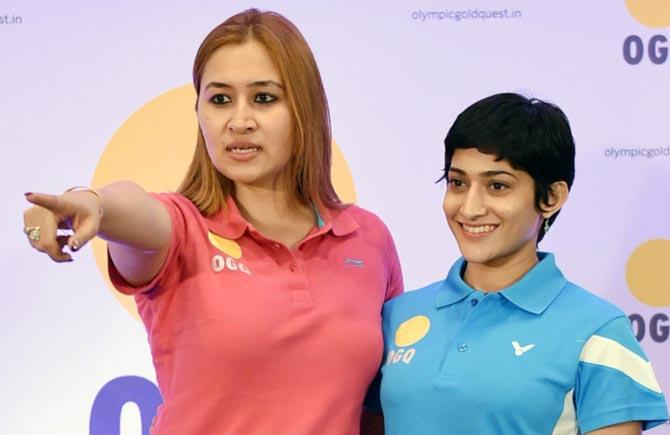 IMAGE: Jwala Gutta, left, and Ashwini Ponnappa during the Olympic Gold Quest event in Mumbai. Photograph: PTI
Indian badminton has never looked so good.
With just nine months to go for the Rio Olympics, the chances of India winning a medal or two from the sport at the 2016 Games looks a strong possibility.
Those hopes received a further boost on Wednesday, November 4, when the doubles pairing of Jwala Gutta and Ashwini Ponnappa signed up with Olympic Gold Quest to boost their preparations for the Rio Games.
"Till now I could not focus fully on myself because of a lot of external factors, but now that everything will be taken care of (by OGQ) and I will have somebody monitoring me, it will only help me improve," Jwala told Rediff.com, adding, "Sometimes you tend to just let it go so it will be a good change."
OGQ will assign support staff like a nutritionist and physiotherapist to take care of the doubles stars, allowing Ashwini and Jwala to worry about their performances on court.
"OGQ will support us with every requirement. Like if we need a nutritionist to take care of what we eat and if we are eating right or if we need a physio who will be specially working with us or a fitness trainer," she added.
"If we need an extra tournament and if it is not in the Indian team's list we have to travel on your own. Now that will be taken care of," Jwala said. "In any athlete's career after a point you need personalised attention to grow and develop your game. That is where OGQ will come in."
Jwala and Ashwini, who are currently ranked 11th in the world doubles rankings, are looking to break into the top 10 by December, which should secure their qualification for the Olympics if they stay there till the cut off date, April 30, 2016.
"Only 16 pairs will qualify for Rio and that will be decided on April 30. We are kind of confident because we are 11th in the rankings. It is a good ranking and we will get good seeding in tournaments and a good draw," the left-hander pointed out.
"By the end of the year we should reach the top 10 which we did after the Canadian Open win. But I was unwell in Japan and Korea and that is where our rankings dropped to 11th. I hope we quality for the Super Series finals," Jwala said, adding, "We should be back in the top 10 hopefully by the end of the year."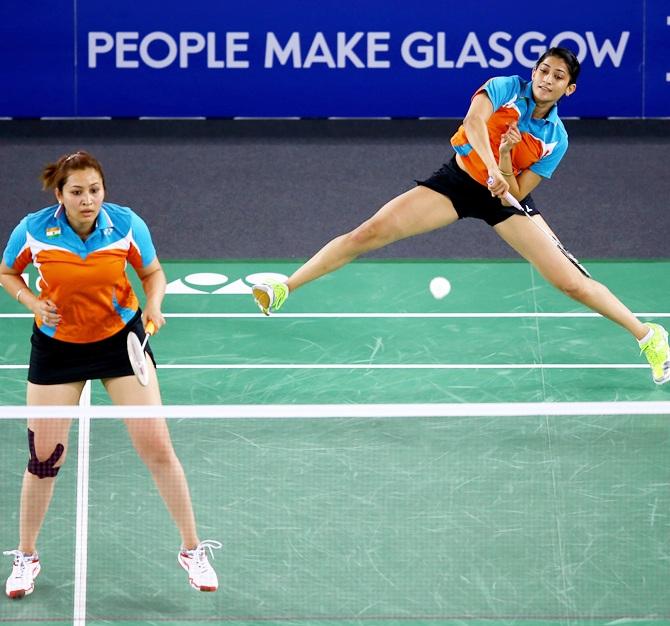 IMAGE: Ashwini Ponnappa, right, and Jwala Gutta in action. Photograph: Richard Heathcote/Getty Images
Jwala and Ashwini's signing saw OGQ cross the century mark for signing up Indian athletes. OGQ began way back in 2008 with Gagan Narang being its first-ever athlete.
OGQ currently has 75 athletes on its roster, including 48 seniors who are being looked after with the objective to win a medal at either the 2016 Olympics or the Games four years later.
Badminton legend and OGQ Co-Founder Prakash Padukone feels Ashwini and Jwala have the potential to win an Olympic medal in Rio. "When they train in Hyderabad under the new Malaysian coach (Kim Tan Her) who is a specialist doubles coach it will be good for them," Padukone said.
"Indian badminton is at its best right now," said Padukone, the first Indian to win the All England Badminton title, 35 years ago. "I don't think we have ever had so many top players either in singles or doubles so I think this is the best phase for Indian badminton."
"Our chances are quite good and any of our players can win a medal at the Olympics. The most important thing will be the form of the player in that week," he added. "They should try and reach their peak during the Olympics. That will be crucial."
"It's good that we have so many options to win a medal. Earlier, it was just one player which is Saina (Nehwal). If she lost, then there was no chance," Padukone said. "But now we have good players in the men's singles, women's singles and women's doubles."