Vaibhav Patil, team physiotherapist of the Indian boxing team, tells Harish Kotian how he is able to keep the pugilists in shape.
With a year to go for the 2012 Olympics in London, the Indian boxing team is leaving no stone unturned to be in top shape for the quadrennial event.
Boxing is a big medal hope for the India at the Games, and the likes of Vijender Singh, Akhil Kumar and Suranjoy Singh are ready to take on the best in the world. These boxers are among the fittest athletes in the country and generally injury-free. And, for that, a lot of credit must to go the team physiotherapist, Vaibhav Patil.
Patil's main focus is on sustaining fitness levels so that the pugilists can give their best in the various qualifying tournaments for the Games.
India's top boxers are currently busy in a six-month training camp at Patiala, which will run till September, after which they will leave for the World Championships, hoping to seal places for the Olympics.
Ask Patil how he is able to keep the boxers in good shape, and he elaborates: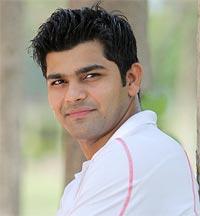 "The best way to keep them free from wrist injuries [which are most common] is to strap them with brown tape before hard training sessions -- bag sparring -- so that the wrists get extra support. Also, we have made it a trend to see that every boxer does a 20-minute icing after each training session, so that if at all there is any micro trauma it gets resolved. This is the first step to injury prevention.
"Also, the stretching programme in the cool down phase of training is set and followed religiously. It helps in washing out the lactic acid formed during training and thus prevents injuries. I also practice Kineseo taping and Mulligan Manual Therapy for injury management, which has been extremely successful and popular among the boxers," Patil says.
Patil is of the opinion that strengthening exercises for the core areas is vital for injuries to be kept at bay.
"Apart from the the protective measures, we also do a lot of strengthening exercises for wrist, neck, back and shoulders to keep fit. A basic core exercise programme is part of the training schedule and it has turned out to be very beneficial," he says.
Understanding the psychology of a boxer before, during and after a particular fight is also equally important, adds Patil. "You fill them with positivity and they will give their best."
Patil revealed that support from sponsors like the Mittal Champions Trust has given the boxers the much-needed security.
"Sponsors like Mittal Champions Trust are doing a fantastic job by giving health aids and support to the athletes whenever needed. They also make sure that the athletes get proper supplements and sports equipment," said Patil.
Incidentally, Patil has changed quite a few lives, helping in the recovery of many who were injured in the terrorist attacks in Mumbai on November 26, 2008.
Poonam Singh and her six-year-old son Sachin sustained bullet injuries at the CST station while waiting for their train to Azamgarh. While Poonam underwent stomach surgery, she also had a clot in her back which incapacitated both her legs.
With her husband Santosh unable to meet the expenses for her full treatment, Patil stepped in. He took Poonam under his care, and within a couple of months she was back on her feet and able to walk.