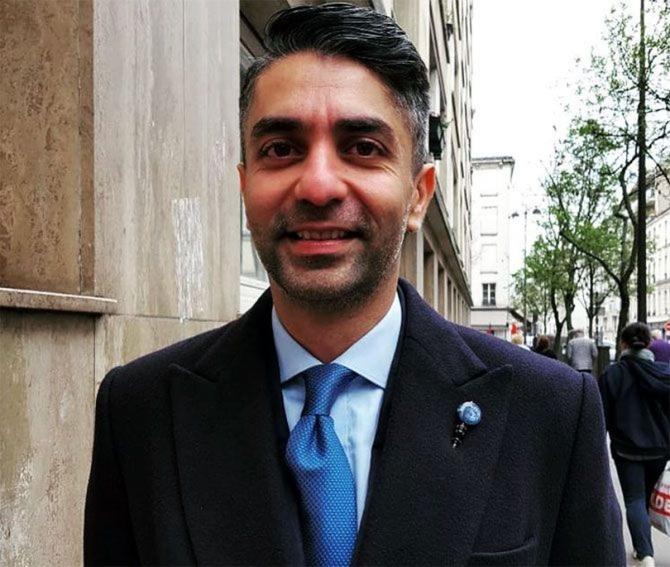 India's only individual Olympic gold medallist Abhinav Bindra is hopeful of the country recording its best-ever medal haul in the upcoming edition of the mega-event in Tokyo, saying each of the athlete can be counted as a "realistic" prospect.
India's best showing at the Games remains the six medals it won in London in 2012.
"Tokyo Olympics could end up with our best ever medal haul even though the times are challenging due to the COVID-19 pandemic," Bindra said on Monday during a webinar organised by Merchants' Chambers of Commerce & Industry.
"Sport is not scripted but I do hope that we come back with our best medal haul and that means we will come back with 5-6 medals and better the London haul, which, if I am not wrong, remains our best."
Bindra, who created history by winning the country's first and only individual Olympic gold medal at the 2008 Beijing Games, is optimistic about a strong performance by the Indian shooting contingent in the Japanese capital.
"I think each one of them has the ability to do their best, they have proved themselves in the last two-three years.
"There are definite medal hopes not just in shooting but across other disciplines as well. We have many people who can be considered as realistic medal hopes going into Tokyo. But a lot also depends on that particular day," he said.
The former world champion in 10m air rifle, who turned entrepreneur after the Rio Olympics in 2016, said like in sports, adaptability and acceptance also come handy in business.
"Whenever I am in a crisis situation, whenever I find a challenge, I do look back at my sporting career and ask myself how do I face it.
"As an athlete you have to be very adaptable to changing situations, these are very useful in business as well," he said while speaking on his transition from a sportsman to an entrepreneur.
"The other thing that is very important is acceptance. Sometimes we have to learn how to accept and move on. As soon as you do that your mind opens, it opens up to look at solutions rather than whining. The mind is then very positive. But it is easier said than done."
He also said the shooting scene has changed a lot from the time when he had started 22 years ago.
"Shooting is now dominated by youngsters but when I was growing up, I was competing with older and experienced people who were double or triple our age. I don't think it was a challenge but it was an interesting dynamic," he said, responding to a question.
Speaking about the time after his Beijing heroics, when he contemplated giving up shooting, Bindra said meditation helped him regain his focus on the sport.
"Post Beijing I wanted to give up. I went for a meditation retreat, a 10-day Vipasana where I am supposed to meditate for 10 hours a day. That's when I realised that I was still in love with the process.
"Actually, it was the boring and mundane that again brought me back to the sport," the former shooter, who now runs the Abhinav Bindra Targeting Performance Centre (ABTP) said.
Sanjay Kapoor elected AICF President, Chauhan retains secretary's post
Sanjay Kapoor was elected president of the All India Chess Federation (AICF) while Bharat Singh Chauhan retained the secretary's post in the polls held online on Monday.
Kapoor, representing Uttar Pradesh Chess Association, defeated incumbent P R Venketrama Raja in a close contest. Kapoor received 33 votes as against 31 of Raja.
Chauhan beat Ravindra Dongre 35-29.
Naresh Sharma, belonging to the Chauhan faction, was elected as treasurer, beating Kishore Bandekar 34-30.
The AICF has been split into two factions, one led by Raja and the other by Chauhan. The two have been at loggerheads for some time over various issues, including the conduct of the elections.
Several legal battles were fought in the past one and a half year and there were instances when the president and the secretary suspended each other at different times.
After a long-drawn battle, a court-appointed observer Justice (retired) K Kannan presided over the election process held online because of the COVID-19 pandemic.
It was the first time since 2005 that the AICF elections saw a contest as the candidates were chosen unanimously in the last 15 years.
Apart from the president, secretary and treasurer, six vice-presidents and six joint secretaries were also elected.
Kapoor said he will work for the chess players and lovers of the sport in the country.
"We have created history. It is a victory for chess lovers. It is the beginning of a new era for chess players and chess lovers in the country," Kapoor told PTI.
He said his vision was to develop the sport at the grass-root level and take it to the schools big-time.
Chauhan said it was a victory of chess and chess players as he promised to work for the betterment of the sport.
"This is a victory of chess and chess players. We are going to work together...even the friends who have contested against us. We are one family. I appeal to them to work together for the sake of chess," he said.
"The new AICF will work with progressive ideas...no enmity, no hard feelings. We are going to talk about chess, we are going to work for chess," Chauhan added.
TOPS sanctions specialised equipment for para table tennis player Bhavina Patel
The Target Olympic Podium Scheme (TOPS) has sanctioned financial proposals worth INR 7.04 lakhs for para table tennis player Bhavina Patel.
The table tennis player was included in TOPS in November 2020. She participates in the F4 category of para table tennis. Bhavina is ranked 8th in the world and by virtue of her current world ranking is well positioned to qualify for the Tokyo Paralympics and thus become the first Indian to do so in the sport of para table tennis.
"Bhavina Patel, a para table tennis player belonging to Gujarat who was included in the TOPS Scheme in November 2020 had financial proposals of Rs. 7.04 lakhs sanctioned by the committee," read a Press Information Bureau (PIB) release.
Last month, the government through the TOPS had sanctioned a 40-day training camp for wrestler Vinesh Phogat along with her personal coach Woller Akos, her sparring partner Priyanka Phogat and her physiotherapist Poornima Raman Ngomdir.
The camp is being held at the Vasas Sports Club in Budapest, Hungary, and will continue till January 24. The second leg of the camp will take place from January 24 to February 5 at the Olympic Training Centre in Szczryk in Poland.
Phogat qualified for the Tokyo Olympics scheduled for July-August 2021 in the women's 53 kg event after winning the bronze medal at the 2019 World Championships.
Phogat was a part of the national camp for women's wrestlers that commenced in SAI Lucknow from October 2020. Her last competitive appearance before the coronavirus lockdown was the Asian Senior Championships in February held in New Delhi where she won a bronze medal. (ANI)
Rijiju expresses optimism on holding of National Games
Union Sports Minister Kiren Rijiju on Monday expressed optimism that the National Games, the calendar of which was affected by COVID-19 pandemic, will be held this year in Goa and in Meghalaya next year.
He assured full help and support from his ministry.
The Union Sports Minister admitted that the calendar for the games was in jeopardy due to COVID-19 and that the infrastructure was also affected.
Dates are becoming a problem. Goa missed the chance last year because of COVID-19. Hopefully this year Goa could host the games, Rijiju told PTI at the sidelines of an event in Shillong.
Next year Meghalaya can (possibly) hold it. The chief minister is really giving his effort and time for the games, he said.
"I will do what is necessary to promote sports in NE, the union minister assured.