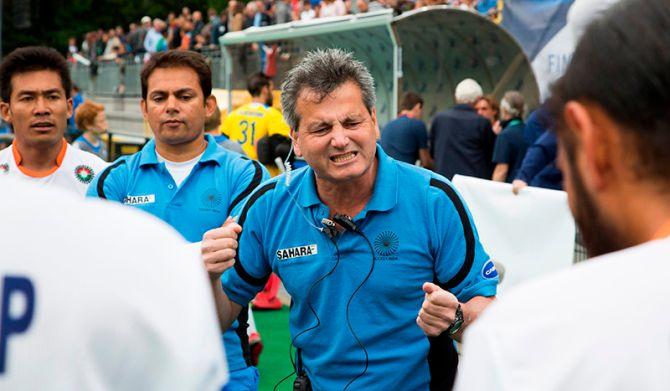 Paul van Ass. Photograph: Hockey India
India hockey coach Paul van Ass said inability to handle fast-paced attack resulted in his side's capitulation against World champions Australia in the FIH World League semi-finals in Antwerp.
"Frayed nerves and inability to cope with the high rhythm set by the Australians hurt us very badly at the start of the match," said van Ass after India were hammered 6-2 by Australia in the last preliminary match.
Australia rode on a three-goal feat by penalty corner shooter Chris Ciriello to complete an all-win record in Group A. India got the second spot in the pool with seven points from four matches.
Pakistan and France are the other teams to qualify for the quarter-finals from the five-team group.
Letting in two early goals, India were pushed back to defend their citadel against the speedy Australian strikers, which van Ass said was expected to happen.
"We got caught in the high rhythm. We knew it could happen, but gave away too much and got hammered," said van Ass, adding that the Indians were okay after the first 15 minutes.
"We have to be realistic. After all, they are world No. 1 and we are No. 9 in the international rankings," said the coach, who recently took up the Indian assignment.
Van Ass is a former national coach from The Netherlands and replaced Australian Terry Walsh as India's chief coach. His first tournament was the Azlan Shah Cup in Ipoh two months ago.
Van Ass has the luxury of experimenting and teaching new strategies to his new wards as India had already qualified for the 2016 Olympic Games by virtue of winning the Asian Games in Incheon last year.
Indian captain Sardar Singh, who set up the move that saw them score the last goal of the match against the run of play, said his strikers need to capitalise on the opening that come their way.
"We got a few chances, but we've got to convert them. Australia they used their openings better," said Sardar.