'Hockey India is finding it difficult to get sponsors'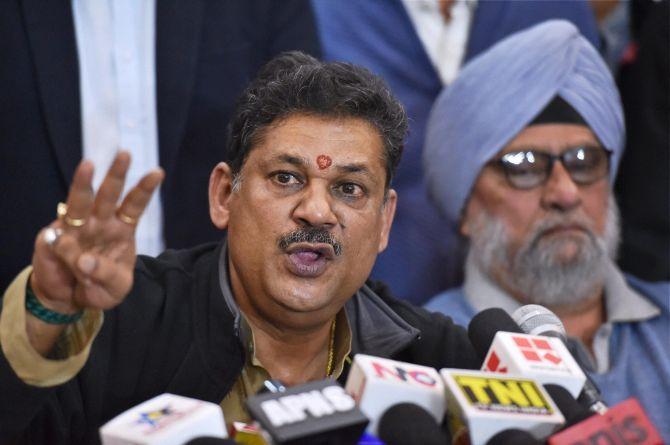 IMAGE: Bharatiya Janata Party MP Kirti Azad reacts during a press conference. Photograph: PTI
Livid with allegations of corruption levelled by Kirti Azad, Hockey India is planning to file civil and criminal defamation suits against the suspended Bharatiya Janata Party MP, saying that his sustained outbursts are costing Hockey India sponsorship.
The suits are likely to be filed on Monday or Tuesday, a source in the Hockey India said.
"Hockey India officials are peeved with Azad's continuous allegations against the body. It has tarnished our image and has also created a situation where Hockey India is finding it difficult to get sponsors," the source said.
Hockey India President Narinder Batra also confirmed that legal action is being taken to counter Azad, who has alleged that there is corruption in Hockey India owing to the influence wielded by former Delhi and Districts Cricket Association President Arun Jaitley.
Azad has claimed that there is widespread financial mismanagement in Hockey India, a charge that Batra has already rejected.
"Hockey India is compiling all the documents relevant to the case and the legal action will be initiated by Monday or Tuesday," the Hockey India source said.