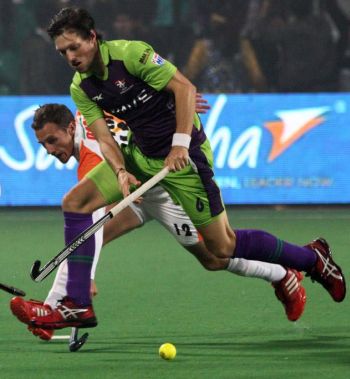 Delhi Waveriders showed no mercy on the Kalinga Lancers as they inflicted a humiliating 5-0 defeat on the Odisha-based side in match seven of the Hero Hockey India League (HHIL) in New Delhi.
For Waveriders, drag-flicker Rupinderpal Singh scored twice (13th and 29th minute) while Matt Gohdes (21st), Danish Mujtaba (48th) and Llyod Norris Jones (53th) found the back of the net on one occasion each.
The Sardar Singh-led side dominated from the onset and made repeated forays into the circle to keep the jittery Lancers on the backfoot.
The Terry Walsh-coached Lancers didn't learn from their last match defeat and continued to play defensively. While the Lancers attackers lacked spark, the defense cut a sorry figure as it failed to anticipate Waveriders' moves.
It was in the 13th minute when Delhi midfielder Timothy Drummond found a Lancers' foot to earn his side the first penalty corner which was ably converted by Rupinder to the right of rival goal-keeper Harjot Singh, thereby bringing a loud cheer amongst the handful of Waveriders' supporters present at the Major Dhyan Chand National Stadium.
In the second period, too, the home side maintained the pressure on the HIL debutants. The tactics paid dividends when Ghodes beat two defenders to flick the ball into the net.
Waveriders added another through another penalty corner conversion by Rupinder, who smashed a grounded flick to beat Harjot on the left.
A jolted Lancers tried to play catch up hockey but failed to grab little chances that came their way. The visitors earned back-to-back penalty corners but could not make them count and went into the half-time trailing by three goals.
Similar story unfolded in the next phase as the Delhi team added two more field goals first through Mujtaba in the 48th minute and then by Jones five minutes later to take control of the match.
The final quarter, thankfully for the Lancers, went without a goal. This was Lancers's second consecutive defeat in HHIL 2014.
Photograph Courtesy: HHIL on Facebook